Bevan enters cinema with 'The Leader'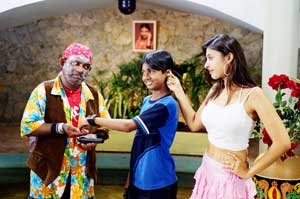 A scene from the movie 'Leader
London-based entrepreneur Bevan Perera produced 'The Leader', Ranjan Ramanayake's latest film in March. Bevan, a businessman and buddy and a classmate of Ranjan says that his intention is to make films that could be taken outside the country. "Talents and capability of actors of the calibre of Ranjan should be taken to the outside world," Bevan said, naming some of the countries such as UAE, Lebanon, Kuwait and India from where he has already received invitations.
Hailing from Negombo both Bevan and Ranjan had been in the art circle in their alma mater, Maristella College Negombo and even in the art related activities in the village. While Ranjan pursued full time acting and directing, Bevan studied at Law College, took oaths in 1988 and went to do his barristers in England. Bevan also started his own businesses in England and now makes regular visits to Sri Lanka.
"I thought I should give back some share of I have earned and thought the best thing I can do is to promote art and cinema," Bevan said. "And in London we get a large number of Tamil, Thelingu and Hindi films in addition to English and Hollywood but not Sri Lankan," he said describing his idea for a film.
Ranjan and I go for films when we come to London and the idea to do a high tech film came while we were watching 'Matrix' at a cinema there, Bevan explained from where he received the idea about 'The Leader', a film about a body guard who provided security to a politician. This high budgeted film has undergone a number of latest digital developments including 'Rope Erasing' and 'digital optical works' at 'Ad Lab' in South India. Some of the digital developments in the famous Indian film 'Krish' too were done at this lab.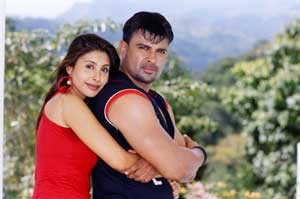 The charges for these subtle developments are calculated per second and Indian Rs. 1000 charged for every second. And another latest upgrading done to this film is DI, a technology done to prevent colour dropping of the film. The production cost of 'The Leader' has exceeded a record-making Rs. 60 million and Bevan is confident about the success of his film.
The film is edited by Indian editor Arsha. Velu Murugu and K.D. Dayananda have handled the camera while Jesuthas and Nandakumar have assisted in the direction. Sivasubramaniam has handled the stunts while Suneth Kelum has composed the music."I hope that the young generation will be influenced with the music in 'The Leader," said Bevan mentioning that it contains a hit from Gypsies Sunil Perera and the last song sung by late announcer and comedian Gemunu Wijesuriya.
In the star cast are Ranjan Ramanayake, Indian actress Ardeen Khan, Anton Jude, Anusha Damayanthi, Janesh Silva, Chathura Perera, Babu Anthony, D. B. Gangodathenna, Sandun Wijesiri and Kinglsey Loos. The film is to be released in the EAP circuit from May..