'Million Dollar Baby' at AC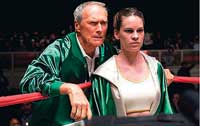 A scene from the movie 'Million Dollar Baby'
Four Oscar winning movie 'Million Dollar Baby' a story of redemption, a touching tribute to the way strangers connect and form a family, will be screened at the American Centre at 6.30 pm on Tuesday March 25.
The film is based on Jerry Boyd's 'Rope Burns', a book of boxing short stories. After a life of being rejected by every single publishing house, Boyd died only a month after hearing that Eastwood had signed up to make a film out of his work. Boyd spent years as a cut man to young boxers, the assistant in the corner who comes in to clean them up. He never cleaned up a fighter of note, and never contested a major fight.
Eastwood plays a character who mirrors Boyd in many ways. As Frankie Dunn, he is an ageing trainer whose proteges always leave him as soon as the big time beckons. Scraping a living running an old-fashioned gym, he inspires everyone who walks through its doors, even though he knows most of them are dreamers. He is assisted by Scrap (Morgan Freeman), himself a former boxer who similarly never scaled the heights he so craved. When Frankie's latest hope joins a new management team, it seems the only thing left to do is throw in the towel.
Suddenly a woman turns up at his gym. Maggie Fitzgerald (Swank) is fit, keen, and inept, but she idolises Frankie. She is self-confessed white trash and Frankie dismisses her. He won't train a woman. But Maggie refuses to leave. She trains day and night and ekes out a meagre living as a waitress. Inevitably Frankie begins to think again.
Directed by Clint Eastwood the movie stars Hilary Swank, Morgan Freeman, Jay Baruchel, Mike Colter and Lucia Rijker and Eastwood himself.