Rathnayake makes melodious rhythms on violin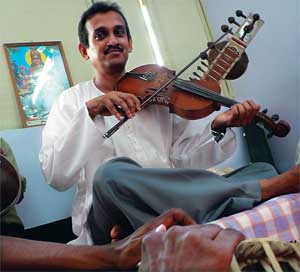 Having inherited the family legacy of legendary lyricist of Sri Lanka Madawala S. Rathanayake, Dr. Thushara Rathnayake is an eminent Hindustani Classical violinist of the country.
He holds a doctorate in Hindustani music and is acclaimed, as the first and only virtuoso in Sri Lanka to hold such a record and to succeed in adapting the violin in "Khyaa1 Gaayaki" or the vocal style of Hidustani Classical Music.
Dr. Rathnayake began his early training in 1978 when he was 11, under his first Guru, Shri. Somasiri Illesinghe who is a disciple of the late Dr. G. N. Goswami of Lucknow, India. Dr, G. N. Joswami was a renowned violinist and a disciple of Ustad. Ashiqu Mi Khan and Ustad.Mushtaj Mi Khan.
In 1986 Dr. Rathnayake finished his school education completing the G.C.E. Advanced Level in Arts at Ananda College, Colombo. He passed Bhathkande Sangeet Vidhyapith of Lucknow, India in 1986 with a first division. He was selected to the University of Colombo in 1987 as an Arts student, but unfortunately his admission to the University was delayed for years due to the instability of the country's political situation. In the same year in 1987 he passed the Upadhi of Visharad with a first division,
As a violinist since 1978, Dr. Rathnayake had a great desire to go to India for further training. Hence he joined the Banaras Hindu University, India as a Bachelor Student in 1989 and continued his studies until 1998.
There he got his Bachelors, Masters and the Doctoral degrees under the guidance of Prof N. Rajam who is an internationally known violinist of India, Prof. R. P. Shastri and Dr.Vi1aJaji. He won the most coveted Pandit. Ohmkarnath Thakur award every year by scoring the highest marks in annual examinations. He also began learning tabla from Pandit. Chotelal Mishra of the traditional Banaras Baj and got the Senior Diploma in tabla from the Prayaag Sangeet Samiti, Allahabad in 1995. In the same year he completed his Undergraduate Diploma in Hindi at the Banaras Hindu University and The Advanced' Post Graduate Hindi Diploma 1997.
He displayed a prodigious command over the violin and drew attention to the "Gayaki", the vocal style during his time in India. Now he is giving his guidance and inspiration to his students at the University of Visual and Performing Arts, Colombo.
In time to come, Thushara devised and perfected a new technique in violin which proved to be suitable for adapting vocal music on his instrument while mastering his own style as well, which includes high rhythmic "Jhaala° with attractive rhythmic variations.
Dr. Thushara has given many performances in India as well as in Sri Lanka. Among them are live solo concerts, radio recordings, television recordings and accompaniments to various classical artistes.
In 1992 he was selected as an 'A' Grade Artiste at the Sri Lanka Broadcasting Corporation. Since then he has given a large number of performances in many radio programs. In 2001 he won the "Bunkar Award" presented by the Japan-Lanka Friendship Cultural Fund. 'Thusar Sara' North Indian Classical Music concert performed by Thushara Rathnayake will be held at the Ananda College Kularatne Hall on March 26.
The program will begin at 5 pm and it is open to the public.