Hope to silence our critics
After a week of travelling, a nearly ruined practice game and a lot of expectation, we take on the West Indies this week seeking our first win on Caribbean soil in what promises to be an exciting contest.
We had only one practice match against a Guyana Cricket Board President's XI before the test. It is not an easy task to walk into a test match in a different country, especially after two days of grueling air travel and jet lag, so this game was vital for us to acclimatise.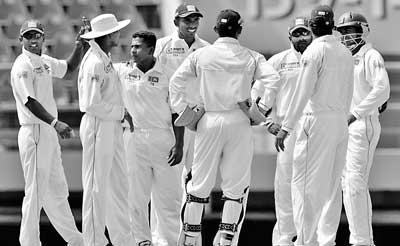 Rangana Herath, third from left, is congratulated by teammates after taking the wicket of Patrick Brown, bowled for 13 runs, of the Guyana Cricket Board President's XI, during a cricket warm-up match .AP
It was a generous gesture from the Guyana Cricket Board, considering that this was the same venue at which the first test will be played and also because hectic preparation of the grounds to make it up to scratch in time for that game on Saturday were still underway.
In a sense, this was advantageous to us because it gave us an opportunity to get a taste of conditions that would be prevailing for the test-although the practice game was played on a strip two strips away from the test match wicket. And as is often the case in such games, what we decided to do was get as many players to go in and 'get a hit'- play in match conditions to get acclimatised.The batsmen seized the opportunity. Malinda scored a hundred and a fifty, Dilshan also stroked a century and Mahela missed a ton by just one run. Chamara who was out of sorts in Australia was also back in the runs, scoring a fluent fifty. We are hoping that this consistency is a sign of things to come.
When the President's XI batted it was Rangana Herath's turn to do the honours. Rangana last played a test in 2005 and for most of his career has understandably been in Murali's shadow. It must have done his confidence a world of good to pick up a 'five-for' and outshine Murali on the day.
When we batted for a second time, I was promoted up the order. I have always believed that to really merit one's place in the team, one has to contribute with the bat as well. I have worked hard on my batting in recent times and this appears to have paid off-I was able to score an unbeaten 40, spending some decent time in the middle.
More importantly, the game gave us an insight as to what the conditions are and about how the wicket will behave. This is the same ground where Lasith Malinga nearly brought victory to us in that memorable game against South Africa with four wickets in four balls during last year's World Cup, but it has never hosted a test match yet.
What I saw was that there was absolutely no movement off the wicket. Bowlers will have to strain every sinew and hit the deck harder to extract any life from this track. We would have to get the ball talking in the first ten overs and try and get some breakthroughs early on because thereafter, it will be a batsman's paradise.
We will in all probability go in to the game with a seven-four composition. Both spinners, Murali and Rangana are likely to play leaving one slot for a paceman to partner me with the new ball. Of course, Dilshan, Thilan and Malinda are all available if the services of a fifth bowler are needed.
Therefore the practice match, a friendly though it was has enabled us to get a flavour of the ground conditions and iron out the finer points with regard to team composition and match strategies-always an invaluable exercise when playing a test match first up in alien conditions.
After the practice game that ended on Wednesday, we took Thursday off as a rest day. The boys were content to spend time at the hotel, the Le Meridien Pegasus, playing cards, watching DVDs or just fiddling with their laptops and browsing the internet. On Friday, it was back to training in preparation for the test.
But test match victories overseas don't come easy and we will have to play to our potential.
If we are able to do that, it would be the best medicine not only to silence our critics but also to forget our recent, below par performances in Australia. Hopefully, we can do just that in Guyana.