Spin in the Windies? It is true!
When you read this the first day of the opening Test will have just been completed. As I write, we are preparing having just finished an excellent warm-up game. We are very satisfied with the preparations and are ready for what should be a close-fought series.
Interestingly, for the first time in a long while, both teams in a West Indies Test match be placing a great deal of emphasis on their spin bowling. West Indies have two spinners in their squad and we are seriously considering playing two specialist slow bowlers as well.
Certainly, the early indications are that the pitch at the Providence Stadium here in Guyana – which will be staging its first Test match – will be helpful for the spinners. There is no grass and if the pitch used for the practice match is anything to go by it will be slow in pace. I'd expect it to get slower as the game progresses and possibly the bounce will also get lower.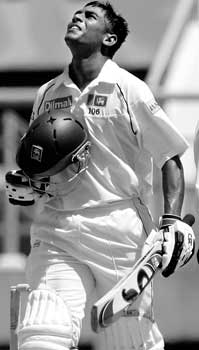 Malinda Warnapura looks skywards while celebrating his century during a cricket warm-up match against a West Indies Select XI at the Guyana National Stadium,
in Providence -AP
These kind of conditions will require us to play some disciplined and intelligent cricket over the coming days. The batsman will have to apply themselves and be patient while at the same time remaining positive. Run scoring may be hard work. The bowlers, too, will have to be very patient.
We got a good foretaste of the expected conditions during the practice game and we made good use of that opportunity. Special mention must be made of Malinda Warnapura's batting – he was very impressive in both innings showing a real hunger for runs.
What impressed me most about Malinda's batting in those innings was his temperament. He batted with maturity, patiently building his innings and later upping the tempo at just the right time. He had to work hard, especially at the start when the ball did swing, but then exploited the conditions superbly.
Mahela's run-a-ball 99 was a different innings. He made run scoring look like a walk in the park, although the reality was very different. And Tillakaratne Dilshan also batted really well. Michael Vandort spent some time at the crease, as did Chamara Silva and Thilan Samaraweera, so we've all had a chance to acclimatise.
In the bowling department, Rangana Herath was the highlight. He has been Sri Lanka's second best spinner for some time now and he too showed his hunger and determination to grab this opportunity after time on the sidelines. He was accurate, spun the ball and used plenty of variation, including the delivery that goes the other way, a very important variation.
Rangana's exceptional performance leaves us with several options in terms of the make-up of the bowling attack. We could have two spinners and two quicks, or we could even go in with five specialist bowlers. This will be a difficult decision – as will the choice of which pace bowlers to play.
Vaasy was given just three overs and looked good so there was no need to overburden him. Instead, Thilana Thushara, Nuwan Kulasekera and Chanaka Welegedera were all given a good run-out. And they all looked impressive in their different ways. It will be hard on whoever has to sit-out, but I think we can be really encouraged that we have this extra fast bowling depth even without the likes of Lasith, Dilhara and Farveez. One area where we did not excel in the practice game was our fielding. We were not as sharp as we need to be and we've been working hard on this aspect of the game. In a match where runs may be hard to come by it is essential that we take all the chances on offer and give the West Indies the freebies.
The key to the game, I feel, will be getting first innings runs on the board. Batting will get harder and harder as the match progresses and it will be crucial to make use of the best batting conditions.
If we can do that then we can control the game.It won't be easy, though. We'll all have to work really hard and be very careful about our shot selection. I don't think you'll be able to play the ball on the up and with the outfield slower than it was during the World Cup it will be crucial to rotate the strike and run hard between the wickets. We know what is required and we are looking forward to the challenge.