Hamilton roars Down Under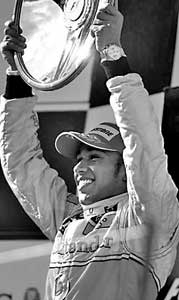 Lewis Hamilton
Young Brit Lewis Hamilton raced to Victory last Sunday at Albert Park in Melbourne in the Formula One Australian Grand Prix. The 23 year old British Race car driver with West Indies background was cheered by his biggest fan, his father and an amazing crowd of 108,000 Australian racing fans that defied an unbearable scorching heat of 38c to be there to witness his victory. This was one of the hottest days of the year but no one could stop the fans as some of them even paid over $1,000 for seats in direct sun and bought water for over three times its normal price at Albert Park on Sunday.
The day was marred by extreme drama as five drivers became casualities on the first corner and 16 failed to finish. Only six cars made it to the finish, making it the fewest number in 13 year old history of Australian Grand Prix. Out of the six that finished, Brazilian Rubens Barrichello was later disqualified, making the finishing number of cars to a bare five. But, Lewis Hamilton was well composed to finish the 58 laps of the 5.3Km track that is around the picturesque Albert Park Lake in just 1hour 34 min and 50.61 seconds. It was his fifth win as Lewis Hamilton has participated in only 18 races during his career. As his winning statement, for the team McLaren, Hamilton declared his Mercedes was in top shape and that he was very happy with the car. Nick Heidfeld from Germany came second in his BMX-Sauber, while Nico Rosberg also from Germany came third for Team Williams. Fernando Alonso for Renault, Heikki Kovalainen for McLaren followed with Rubens Barrichello for Honda but as later as Rubens was disqualified, Kazuki Nakajima from team Williams was raised to the sixth place. Last year's winner and World Champion Kimi Raikkonen from Ferrari retired in lap 53 as his engine died when hit by another car.
There was a large crowd of 303,000 during the four day racing mayhem. The Grand Prix, as always had its fare share of Celebrities from all over the world. The famous rock legends 'Kiss' rocked the crowd with one of their rare appearances while Ozzy Osbourne also was in town. Sharon Osbourne was seen around with children Kelly and Jack visiting the British drivers in their teams. Kylie Minogue's sister Dannii, as well as Tennis player Mark Philippoussis, retired bowler Shane Warne, singer Vanessa Amorosi wereseen around with many other Australian celebrities. The day ended with the celebration of winners splashing champagne all over each other and their teams.