Rugby moving into thick of things
The rugby season for 2008 has got off with the club sevens and is to be followed by the schools. Thereafter it will be a fight for the fifteen a side crown both in the clubs and the schools. To some it will be a fight to stay at the top or to get there.To others it may to be where you have been, if not to do better. If we are to go by the performance of the sevens we may find the Havelock's, Police and the Air Force getting into thick of things as they have been in the past. To be there at the top as well as to be the one needs to be better than the others.
Reading the game analysis of the World Cup and top level games across the globe I noticed that more than one-third of tries were scored from line outs, almost twice as many as from scrums. With a game having an average around of 30 line outs, teams need to target to win at least their own throws, as well as work hard to spoil their opponent's possession. A common weakness among of some of the teams is their inability to win own throws. This is not an uncommon sight on our fields.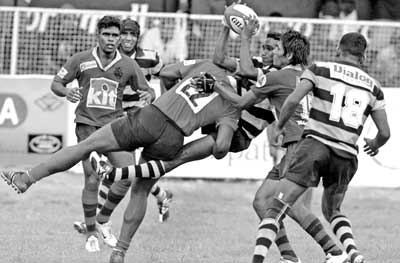 CR & CH will have to come up with better performance this season.
The inability often arises from the inaccuracy of the throw and or coupled with faulty jumping. This problem is taken further by the lack of coordination between the thrower and the jumper. Similarly you often hear of the concept of non contest of the ball in a line out when it is their throw. The thinking behind being is to save your energy without fighting for a ball where most likely the throwing side wins. Does this mean that you don't pressurize your opponents to make mistakes and or to make it difficult to have good ball all the time. The importance of practicing the line out has to be considered since the laws allow supporting a player; commonly known as "lifting".
There are some simple things you can do to improve your line out and to make it more effective. This aspect of the game is important for your team as well as from the national level. Dan Cotrell the editor of better rugby coaching says "To be able to have a winning lineout team the first and most important is to select the right players. That is players with the ability to handle this integral set piece in the pressurized atmosphere of a game.
Successful line outs are not simply about individual skills, but also about how well players get together in units and 'pods'. Once you have the players, you then need to consider each of the key factors which affect every one of your lineout".
* Vimal Perera is a former Rugby Referee, coach and Accredited Referees Evaluator IRB