Early to rise and early to bed!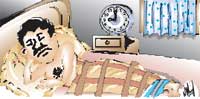 This Government always tries to put the burden on the public irrespective of who is at fault.
In the case of electricity price hikes the Government should have taken steps to construct the coal power plant where power generation is considerably cheap. The delay was with the Government but the burden is now on the public.
Why can't this Govt. like the former Govt. advance the clock by one hour or half an hour and save that much of consumption? This will benefit both the Govt. and the public, the poor worker can leave for work at daybreak and return before it is dark.
Maybe those in office are shy to revert to what they rejected earlier.