We want Harry, say unions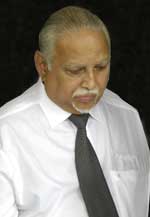 Harry Jayawardena
Sri Lankan Airlines trade unions are gearing up to call for the re-appointment of SriLankan Airlines Chairman Harry Jayawardena on the eve of the termination of the airline's management contract with Emirates at the end of this month.
Five unions met yesterday to send a memorandum to President Mahinda Rajapaksa asking him to re-appoint Mr. Jayawardena to the re-constituted Board.
Airline sources said that Mr. Jayawardena was the last to resign when the Board's resignation was called by Treasury Secretary P.B. Jayasundera. The Government immediately reappointed Nishantha Wickramasingha, the President's brother-in-law, to the Board, while also giving a berth on the Board to Lalith de Silva, a consultant to the Saudi Telecom, who has been flying to Colombo once a week to assist the national carrier in transferring back the management control from Emirates.
They said the Government so far has been silent on the reappointment of Mr. Jayawardena as Chairman. Mr. K.K.H. Wijesekera, General Secretary of the Sri Lanka Nidhas Sevaka Sangamaya - the largest union in the national carrier - representing about 65 per cent of its employees said his union would sign the short statement to the President on Monday with the other four unions as Mr. Jayawardena was the only Chirman to pay them a double bonus in the airline's history.
Pilots' Guild president Capt. Sujith Jayasekera said his group too would sign this short appeal.
Capt. Jayasekera said the airline had already lost 28 pilots due to wrong policies and ten more are on the verge of leaving, but many are yet staying because of the faith they had in Mr. Jayawardena's abilities.
Licenced Engineers Union president Anil Pathirana said his union was not going to sign any appeal but was agreeable to forwarding that request to the President. Mr. Pathirana also said his union had already lost 14 engineers, representing 20 percent of the cadre and seven to eight others are also toying with the idea of taking up foreign job offers, which are galore at present.
At yesterday's joint union meeting held between 10:30 a.m. and 12:00 noon the other unions that had agreed to this cause of action are the Flight Attendants Union and the Technicians Union. At the time of going to press we were unable to contact either of them.