Maga Neguma big shots in head-on collision
General Manager alleges assault, but chairman says "all lies"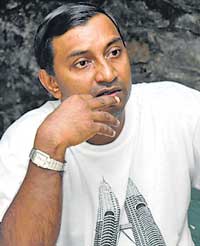 Padmika Mahanama
Allegations that a top official of a state company involved in the government's Maga Neguma programme had threatened at gun point an executive of the same company, is being probed by the Mount Lavinia police.
Padmika Mahanama, General Manager - Administration and Finance of the RDA floated Maga Neguma Road Construction and Equipment Company has alleged that the company's chairman, Jaliya Kulasekera shoved a pistol into his mouth before attacking both verbally and physically,last Monday at their office in Moratuwa.
The chairman however denies the allegation.
A senior police officer of Mount Lavinia said they had not yet found the pistol allegedly used by the chairman adding however that he did not have a licence to use a pistol. According to Mr. Mahanama, the chairman had stormed into his room while he was getting ready to take lunch, dragged him by the tie, before shoving a pistol into his mouth and hitting him with his bare hand.
"He said he would kill me like a dog," Mr. Mahanama, who has been at the company since its inception four years ago, said. "He hit me several times on my ears, neck and face and smashed the fax machine, telephone, a chair and other items in my room," he said, adding that there are many witnesses of the scene as the door to his room was wide open. He just walked out and there was nothing anyone could do to stop him," he said.
Mr Mahanama said he had then called the Police and was later admitted to the Kalubowila hospital. However he said he left the hospital as he did not feel safe there. "I knew something like this would happen as I was getting threatening calls since November last year. The caller told me to resign or else I would lose my family," he said, adding that he had complained to the police.
He said in January, the company board had taken a decision to remove him from the post. "I do not know why or how they came to such a decision," he said.
Meanwhile the chairman Mr. Kulasekera denies that he attacked Mr. Mahanama.
"I was checking the file of the HR officer and I realized that some of the documents were photocopies while some important documents were missing. When I asked for explanation he said that the file had been with the General Manager. So I summoned Mr. Mahanama, but he refused to come," Mr. Kulasekera said.
He said he then went to Mr. Mahanama's office to seek an explanation. "When I went to meet him, he started shouting at me. Later he complained to the police that I had used a pistol. These are all lies," Mr. Kulasekera said. He added that a decision had been taken by the board in January to remove Mr. Mahanama as he did not have the required qualifications for the post.
"After I took over office last year, I checked the qualifications of the employees. However, when I asked Mr. Mahanama for his personal file, he said it had been misplaced. It was clear that he did not have the necessary qualifications and when this was taken up with the board members they decided to sack him," Mr. Kulasekera said, adding that although Mr. Mahanama had been replaced he had continued to occupy the position.