"Lakjaya Foundation" beyond race and caste
War not story of victory and defeat
Don't view individuals through the eyes of caste and creed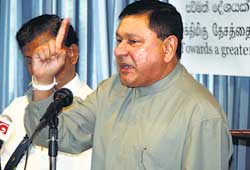 Retd. Major General Janaka Perera
The former Sri Lankan High Commissioner to Australia, retired Major General Janaka Perera on Tuesday launched the Lakjaya Foundation whose objective is to build a caring society which helps those affected by the war.
The Lakjaya Foundation was launched to help empower war-affected people and unprivileged sectors of the society. The aims of the foundation are to help restore self reliance, dignity and respect among those Sri Lankans who have been victimis of the war.
The foundation also plans on providing moral and individual physiological assistance to those who have been affected by the war. Maj. General Perera told The Sunday Times that he was now out of the military and diplomatic service and felt the need to provide a service to the people of the country -the Lakjaya Foundation was launched to provide such a service.
He explained the modus operandi of the foundation would be to provide easily repayable credit schemes to help families of servicemen who had sacrificed life and limb in the war, as well as to marginalised communities to make best use of their competences and interests to commence self-help economic activities
Maj. General Perera said he was backed by a group of eminent local and foreign personalities.
"In a war" he explained "there is not only victory and defeat, but also people who are the victims of the conflict. The Lakjaya Foundation will provide support not only to soldiers and their families who have been torn apart because of the war, but also to citizens from all communities who have experienced the trauma war has brought upon them".
"To provide help to those in need,it is not only the duty of the government, but also the responsibility of the citizens living in this country. Our Foundation will be directly dealing with those who have been traumatized due to the war. We don't need to view these individuals through the eyes of caste, class and creed to help them," he said.
"I have with me a group of eminent personalities who will be playing a key role to see that this Foundation will be successful in providing the needs of those who have lost their base as a result of the war," he said.
The first program of the Foundation will be initiated on April 06th with a religious event held at the Anuradhapura Sri Maha Bodhiya calling for blessings on the armed forces and a symbolic programme to provide relief to those victimised by war.
The Foundation will also be preparing a database of families who have lost their breadwinners in the war and will provide relief to them. Other pioneers of the Lakjaya Foundation are Mr. Lalith Gamalath (Attorney at law), retired Rear Admiral D.K. Dassanayake, Shirley Tissera (Businessman), Kithsiri de Silva (Businessman), Tyronne Weerakody (Attorney at law) and Professor W.M. Wijetunge.