Lankan inventor complains of cold storage treatment
Chandrasena with his latest invention
A cool-box that retains the same temperature for 24 hours and could be used in the transportation of medicines is the latest invention of a young man from Mathugama, who has many other inventions to his credit.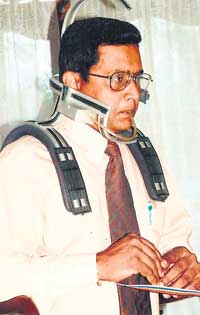 The device he created to make computers user-friendly for the handicapped
M.A. Prince Chandrasena, a refrigerator mechanic said a tragedy that befell one of his friends, motivated him to come up with this latest invention. "During the long power cuts we had some years back, one of my friends died due to poisoning from an injected medicine that had got contaminated as the hospital did not have power," he said.
He believes his invention could be used especially to transport medicines for mobile health clinics. In 2000 he invented a device-- a mouth-operated mouse that could assist disabled people to operate computers. The contraption is worn on the head and is operated either with the head or the mouth.
He says although his work has not been recognized either by the government or any state institution, he will continue with his inventions. Chandrasena's first invention was in 1993 when he developed a robot which would offer a drink when a five rupee coin was dropped into it. His other inventions include a signal system which could be used to communicate within a building comprising 50 rooms, a gem cutting machine, a machine that removes moisture from garbage, a remote control device to light up electric bulbs and a contraption that could give a reading on the amount of gas in a domestic gas cylinder when in use.
He says in the future he hopes to invent devices that could help the visually handicapped. Claiming that his inventions are not found anywhere else in the world, he laments that he has however got very little recognition here in Sri Lanka. Chandrasena says in spite of exhibiting some of his work here, there was little feedback except for false promises. He also claimed that some local companies had approached him to obtain patent rights over some of the inventions for a low price.
He said the late President Ranasinghe Premadasa had recognized his talent and had promised him a scholarship to Japan, but with his sudden death that too never saw the light of day.