LTTE attack destroys navy craft: ten missing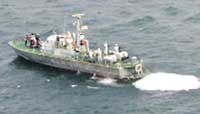 A Navy Dvora patrolling the northern seas
Ten Navy personnel were reported missing yesterday morning after one of the Navy's Fast Attack Craft (FAC) was caught in what is believed to be an LTTE sea mine explosion off Nayaru, Mullaitivu, a Navy spokesman said. He said six sailors were rescued and a search operation was going on for the missing sailors.
The spokesman said this was the first time a navy craft was hit by such a sea mine explosion though such undersea mines had been detected earlier off Mullaitivu. However the LTTE claimed that it had mounted a suicide attack on the Navy's Dvora killing 14 sailors and losing three Black Sea Tigers in the attack. But, the Navy disputed the LTTE version. (See Situation Report by Iqbal Athas on Page 5 for more details.)
Meanwhile heavy clashes erupted between the Army and the LTTE in Pirmanalankulam in the Mannar district. The military said they killed 15 LTTE cadres and lost two soldiers while capturing one square kilometre in the area. At least 11 soldiers were also injured. Meanwhile heavy clashes erupted between the Army and the LTTE in areas southeast of Adampan, Mannar.
A military spokesman said last night 22 LTTE cadres and four soldiers were killed in the clashes. At least 26 LTTE cadres and 16 soldiers were also injured in the clahses, he said. He said the troops overran eight LTTE bunker defences in the area.
A multi-pronged assault on LTTE territory was launched at 4.45 a.m. yesterday morning with the advancing troops directing heavy artillery and mortar fire at LTTE positions, the military spokesman said. He said LTTE cadres had run back to their defence lines in the Wanni. Reports from the Nagarkovil area last night said heavy fighting was taking place in the area with both sides firing heavy artillery.
Earlier in the day, the Defence Ministry said seven LTTE cadres were killed in clashes with the troops in the Muhamalai and Nagarkoivl areas. The security forces suffered no casualties, the ministry said.