Musharraf's allies withdraw PM candidate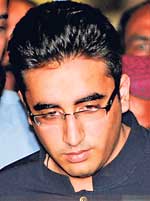 Bilawal Bhutto Zardari
ISLAMABAD, Saturday (AP) - Allies of President Pervez Musharraf withdrew their candidate for Pakistan's prime minister as a ''goodwill gesture'' to followers of slain opposition leader Benazir Bhutto, who said they would announce their choice for the job today. The move clears the way for whoever is nominated by Bhutto's party to run for premier uncontested.
Bhutto's party routed Musharraf's allies to win the most seats in last month's elections. Her widower and 19-year-old son are expected to announce a candidate Saturday evening, ahead of a vote two days later in parliament. Musharraf's allies named their choice for premier, Farooq Sattar, earlier this week. The nomination was largely symbolic since they do not hold a majority in parliament.
The decision to withdraw Sattar's candidacy was made late Friday after meetings with party leaders in London and Karachi, said lawmaker Haider Abbas Rizvi.
''The decision was made as a goodwill gesture and in the larger interest of the country,'' Rizvi told The Associated Press. He and Sattar are both members of the Mutahida Qaumi Movement, or MQM, a pro-Musharraf group based in southern Pakistan.
''We will support the PPP candidate unconditionally,'' Rizvi said, referring to Bhutto's Pakistan People's Party. The move is the biggest indication so far from Musharraf's allies that they are willing to cooperate with a new Pakistani government dominated by their opponents. The new administration will be led by followers of Bhutto and another ex-premier, Nawaz Sharif, who was ousted in Musharraf's 1999 coup. A confrontation still looms between Sharif and the unpopular former general, who wants to stay on as president.
''We will maintain and reciprocate this spirit,'' Asif Ali Zardari, Bhutto's husband and political heir, told Geo TV late Friday. He said he would strive to make Pakistan's next government ''a government of national consensus.'' Zardari and his son, Bilawal Bhutto Zardari, will name the PPP's choice for prime minister before a vote by lawmakers on Monday, said party spokesman Farhatullah Babar.
''The name of our candidate for prime minister will be announced this evening,'' Babar said Saturday, without elaborating. After confirmation by parliament, the new premier is set to be sworn into office by Musharraf on Tuesday, said presidential spokesman Rashid Qureshi. Bhutto's son was appointed party chairman after his mother died in a December suicide attack, but his father is running things while the 19-year-old continues his studies at Oxford University.
Bilawal flew to Pakistan on Wednesday and is expected to make the premiership announcement alongside his father. An aristocratic party stalwart, Makhdoom Amin Fahim, has long been considered the front-runner for prime minister. As PPP vice-chair, he led Bhutto's followers in parliament during her nearly eight-year exile from Pakistan.
But the party has stalled on nominating Fahim amid speculation that Zardari wants the job. He is currently ineligible because he does not hold a parliamentary seat. However, he could appoint a stand-in and run for a seat in a by-election within months.The battle for prime minister has strained party unity _ even before it forms a coalition government that faces massive challenges including a wave of Islamic militancy, high inflation and electricity shortages.
The withdrawal of the opposition candidate for prime minister goes a long way to relieve tension between Musharraf and the new government, said Ishratul Ibad, the governor of Sindh province and a key MQM lawmaker. ''The atmosphere of reconciliation among political forces is a good sign for the country,'' Ibad told AP. ''Reconciliation is the key word for Pakistan now.''
Despite the withdrawal of the pro-Musharraf candidate, controversy raged on within Bhutto's party over who should be Pakistan's next prime minister.
A Friday editorial in one of Pakistan's main English-language dailies, The News, decried the PPP's ''bitter infighting'' and ''clumsy manner'' in which the choice of a premier has been conducted.
''The suspicion of course is that Bilawal's involvement has become necessary because of the now openly hostile standoff between party president Amin Fahim and co-chairperson Asif Ali Zardari,'' it read. ''The plan from the Zardari camp seems to be based around the rather optimistic premise that Fahim may not be willing to confront young Bilawal, both because of his age and because of the emotional standing he carries as the son of the slain Benazir Bhutto,'' it read.
Draped in a traditional shawl from Bhutto's native Sindh province, Bilawal signed autographs for supporters Thursday after visiting his mother's grave at the family's ancestral home.