Butterfly Garden at Cinnamon Lodge, Habarana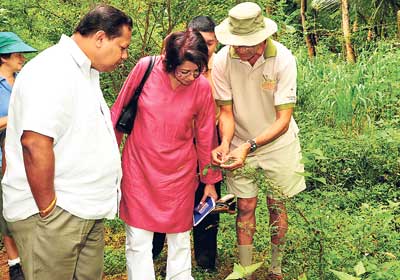 Picture shows Dr. Michael van der Poorten (extreme right) explaining the plant life at the Butterfly Garden to Sumithra Gunesekera and Shiranee Yasaratne.
The Cinnamon Lodge and Nature Odyssey in collaboration with the John Keells Social Responsibility Foundation recently opened a Butterfly Garden at the Cinnamon Lodge, Habarana. The objective of the project is to develop an ecologically rich plot of land as an ideal habitat to attract butterflies; simultaneously creating awareness among guests, schoolchildren and other visitors about butterflies and biodiversity. The garden currently comprises about 300 plants that attract a wide variety of butterflies, the company said.
Situated on a 10-acre block of land at the Cinnamon Lodge farm, the Butterfly Garden was declared open by Director, John Keells Holdings, Sumithra Gunesekera in the presence of renowned butterfly specialist Dr. Michael van der Poorten, Head of IUCN Asia's Business and Biodiversity Programme Shiranee Yasaratne, staff of the Cinnamon Lodge, schoolchildren from the area and other guests.
The consultant on the project, Dr. Michael van der Poorten is a renowned butterfly specialist who has been studying butterflies in Sri Lanka for many years. He recently discovered a species of butterfly that is new to Sri Lanka, the Orange Migrant (Catopsilia Scylla), which is found in Asia but has never been recorded in Sri Lanka before.
"We are trying to promote the development of habitats in which butterflies can live and sustain stable populations", said Dr. Van der Poorten. "It is important to make people aware of the resources that butterflies require in different habitats. Two of the most important resources are food for the caterpillars (larval host plants) and food for the adults (usually nectar plants)." A total of 244 species of butterflies are found in Sri Lanka, including the recently discovered Orange Migrant by Dr. van der Poorten. Among them, 20 species are endemic to Sri Lanka. "We are encouraged that corporate entities such as John Keells are engaged in the conservation of threatened species to help save Sri Lanka's vanishing biological heritage." said Head of IUCN Asia's Business and Biodiversity Programme, Yasaratne.