Slaying of five Trinco students: Samarasinghe denies charge
Disaster Relief and Human Rights Minister Mahinda Samarasinghe offered a house in Colombo to Trincomalee citizen and admission to a city school for his remaining children if he did not pursue his complaint over a slain son, a Commission of Inquiry heard on Thursday.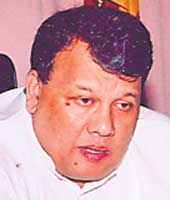 Mahinda Samarasinghe
The allegation came from Dr. Kasipillai Manoharan, who was testifying via a satellite link before the Presidential Commission inquiring into human rights violations when sittings were held at the Sri Lanka Institute of Development Administration (SLIDA) office in Colombo.
However Minister Samarasinghe told The Sunday Times "I chair the inter ministerial committee on human rights and when it was brought to the notice of the committee that there were threats to the life of Dr. Manoharan, the house and additional security were offered to him."
The public inquiry into the killing of five Tamil youth is now under way before the Presidential Commission and evidence is being gathered from witnesses who are living abroad via video conferencing. The victim's father in his evidence said he had no confidence that he would get justice from the Sri Lankan government. He said the killing of his son and others was pre-planned.
The five youth, all university students, were killed in Trincomalee in 2006 and it has been alleged that some members of the STF were responsible but those taken into custody on suspicion were subsequently released due to lack of evidence.