JVP wants 17th Amendment before Eastern PC polls
The JVP has listed a series of demands if it is to consider contesting the forthcoming Provincial Council elections to the Eastern Province, a frontline MP of the party told The Sunday Times yesterday.
Anura Kumar Dissanayake said the demands included that the 17th Amendment to the Constitution be implemented well ahead of the May 10 elections so that the Constitutional Council would be in operation by then and the two vital institutions required to ensure a free and fair polls -- the Independent Elections Commission and the Independent Police Commission – would be a reality before the polls.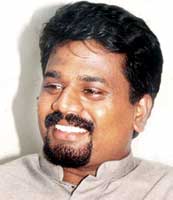 Anura Kumar Dissanayake
He reiterated the party's position that the government was reintroducing the 13th Amendment to the Constitution at the behest of India, and this matter would also be taken into consideration before the party takes a decision on whether to contest the EP PC elections.
Meanwhile the two other key opposition parties – the UNP and the TNA -- which boycotted last Monday's local council polls in the Batticaloa district, have indicated their willingness to join the fray for the upcoming provincial council elections in the east. The main opposition UNP's General Secretary Tissa Attanayaka said the party was in favour of participating in the elections and a decision would be taken by the political committee on Tuesday. TNA parliamentarian Mavai Senathirajah said the party would take a decision after parliamentary group leader R. Sampanthan returned to the country this week.
He said many TNA candidates who had come forward to contest the 2006 local council polls which were later cancelled, had been forced by the TMVP to contest on its ticket at last Monday's Batticaloa district mini polls and this was one of the issues that the TNA would take up. These opposition parties have also expressed grave concern over the presence of armed groups in the east -- an obvious reference to the TMVP -- and are demanding that the government should disarm all groups before the provincial elections.
SLMC spokesman and parliamentarian Hassan Ali said the party would contest the provincial election but would decide later whether to go it alone or contest in alliance with another party."A meeting of all our local council members, district committee and village level members will be held in Kandy today and the decision will be made after consulting them," Mr.Ali said.
A spokesman for the TMVP said the party which swept the board in last Monday's local council elections in Batticaloa is also likely to take a decision this week on whether to contest the provincial polls in alliance with the ruling UPFA as it did in Batticaloa.