Malaysia premier rejects calls to resign
KUALA LUMPUR, Saturday, AP - Malaysia's prime minister rejected calls to resign, claiming he won a ''strong'' mandate in elections that gave the opposition its biggest gains in the country's history.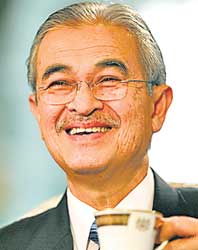 Malaysia's Prime Minister Abdullah Ahmad Badawi smiles before an interview in Putrajaya outside Kuala Lumpur. REUTERS
Prime Minister Abdullah Ahmad Badawi acknowledged that support for his National Front coalition had plunged in last week's elections _ from 91 percent of the parliamentary seats to 63 percent _ or 140 seats in the 222-member chamber.
Still, the ruling coalition managed to get a ''strong majority,'' just eight short of two-thirds of the seats, Abdullah said in an interview late yesterday on state television.
''This is still a mandate given to me. I will not run away from my responsibility to carry out the wishes of the people,'' he said. Abdullah's comments came after the son of former Prime Minister Mahathir Mohamad asked Abdullah to resign to take responsibility for the election debacle.
Besides the decline in Parliament, the National Front also lost elections for legislatures in an unprecedented five of Malaysia's 13 states. The results ''sent a sufficiently clear message regarding the people's rejection of (you) as the country's leader,'' Mukhriz Mahathir, a government lawmaker, said in a letter sent to Abdullah on Thursday. It was made public yesterday.
Abdullah said he has the full backing of members of his ruling United Malays National Organization, which forms the foundation of the National Front, and will let UMNO youth take action against Mukhriz.