Hayleys continuous engagement with the community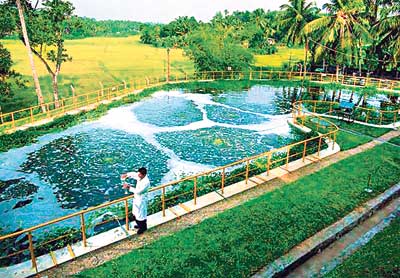 Plant
Sri Lankan conglomerate, Hayleys, in its continuous community engagement, has actively participated in the restoration of three ancient reservoirs in the hinterland of the country to encourage and renew traditional practices of the past, an international audience was told earlier this month.
This came in a presentation by Hayleys Chairman N. G. Wickremeratne to the inaugural Working Conference of the CEO Water Mandate of the United Nations Global Compact (UNGC). The meeting was held in New York earlier this month and Wickremeratne was represented by Hayleys Board Member Arjun Senaratna.
Hayleys was among the first global corporate entities and the only Sri Lankan company to endorse the CEO Water Mandate, a call to action and a strategic framework to make sustainable water resources management a priority for businesses world-wide.
Excerpts of the presentation:
Water has played an unparalleled role in Sri Lanka's civilization for over 2500 years. The ancient Kings of the country built thousands of reservoirs and these along with the temples formed the Village, the basic societal unit of the country. These reservoirs, some dating back as early as the 4th century BC, were designed for rain water harvesting and flood protection and were used for irrigation and domestic needs. Uniquely too these systems were maintained by the local communities as a common resource.
The Kings of Sri Lanka did not build palaces – they left a legacy of water resources. This unique hydraulic civilization not only supoorted man in his pursuit of agriculture but also the magnificent flora and fauna of the country, and do so even today.
There is probably no corporate in Sri Lanka so closely identified with the ethos of the country as Hayleys. It has played a defining role in the transformation of the country to a modern economy but its significant point of differentiation is that while doing so, it projects and protects the core values of the country.
In all of its business activities Hayleys has consistently displayed a commitment to sustainable development embodying the principles enunciated by the Global Compact even before they were proclaimed in 2000 and well before the Group became a signatory to the UNGC in 2006/07.
Why and How
The emerging problem in terms of water and climate change in Sri Lanka is a very pressing reality. Water is important for the country for Agriculture, Industry and Hydro power. These are all areas in which Hayleys is actively involved in and we see a compelling rationale in supporting the principles of the UNGC through the Water Mandate. We abide by three principles relating to the environment in the following ways:
-UNGC Principle 7 advocates support for a precautionary approach to environmental challenges.
-Our large manufacturing facilities are significant users of water. The Group consumes nearly 8500 c/m of water per day. All large water users of the Group are ISO 14000 accredited and continuously seek to reduce the impact of water use and contamination, going beyond environmental regulations.
-Hayleys manages nearly 20,000 hectares of Tea, Rubber and Forest lands in the country.
The employment of sustainable agricultural practices and prevention of pesticide residues entering water courses is a major priority. Our rubber plantations have been certified by the Forest Stewardship Council, UK as well managed forests.
UNGC Principle No: 8 calls for initiatives for greater environmental responsibility. Hayleys is a leading supplier of crop protection chemicals and fertilizers. It reaches both the organised plantation sector and one-in-four rural farmers. It provides them with training on the correct and safe use of chemicals and advice to prevent excess water extraction and contamination of water sources.
Principle 9 of the UNGC advocates development and diffusion of environmentally friendly technologies. The following are examples of what we do -- Hayleys manufactures superior Activated Carbon used extensively for water and air purification applications; the Group has developed Geo-Textile blankets from woven bio-degradable coconut fibers, which are used for soil stabilization and erosion control; Coconut fibre slabs are used for 'floating islands' from which water plants are induced to extract nitrates and other contaminants from water bodies.
We believe these activities are very well aligned to the focus areas of the CEO Water Mandate covering especially Direct Operations, Supply Chain and Water Shed Management. Sustainable use of water is not new to Sri Lanka or for Hayleys.
However countries and businesses such as ours cannot survive following these best practices unless there is meaningful recognition, endorsement and economic reward for their practice.
Without this, practices in environmental sustainability would rapidly become unsustainable in the harsh light of the global marketplace.