I may come and go but home is always home
Hikkaduwa – my birthplace revisited
I had vowed never to leave my country of birth "for good" at any time, even resisting the temptation to join my close friends in the massive exodus of doctors out of the country in the late sixties. However, unexpected turns of events, a deteriorating security situation, economic reasons (with two children being educated abroad), a few "raw deals" from my former employers in Sri Lanka, opportunities that came my way etc, all added up to bring about a change in my original thinking. Thus, I finally had to take that momentous decision to "emigrate" to the US - and what a wise decision it turned out to be!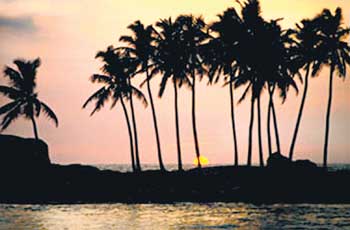 The flight we took to leave Sri Lanka on July 3, 1997 was not like any other flight out of the country that I had taken before. As the plane took off from Katunayake, the view from my window seat somehow looked different. After all, we were leaving our country of birth to take up residence in a foreign land. But ever since then, we have made it a point to visit my motherland Sri Lanka every year, usually in December. 2007 was no exception.
Birthplace
On a weekend during our last December holiday in Sri Lanka, we had yet another opportunity to visit my birthplace – Hikkaduwa. I was born at the height of the Second World War in that southern coastal town that must have looked so different from what it is today. Being the first-born son in a family of four children, my arrival no doubt would have been heralded as a great event to be rejoiced by my parents.
Like most childbirths in that era, it had been a home delivery in my maternal grandfather's seaside ancestral home. James Peter Weerasinghe (who had departed this world even before I was born), had been a Notary by profession, but not a Justice of the Peace (JP) as his initials would suggest! He had resided and practised in the house that I was born in, on the main Galle Road close to where the present Corral Gardens Hotel (formerly the Hikkaduwa Rest House) stands. We had moved to Galle when I was just a toddler. I cannot remember my maternal grandmother or anything else around the Hikkaduwa house except perhaps the great big ocean. Strangely, I remember albeit very vaguely, the Seenigam Devale which was on a tiny island in mid sea, clearly visible from the Galle Road.
Our hosts
On this particular weekend visit to the South, we were hosted by our close friends Priyadharshini and Nihal de Zoysa. Priyadharshini herself hailed from Seenigama, a village near Hikkaduwa. She and my wife Mangala were not only classmates at Visakha Vidyalaya, but they were also "dorm mates" in the hostel. Nihal retired a few years ago from UNHCR with his last duty station being Geneva. An Old Thomian who is an Arts graduate of the University of Ceylon and a former high ranking officer in the Sri Lanka Air Force, Nihal was an outstanding sportsman having been a Public Schools athlete and rugger player. He had played Rugby for St. Thomas', University, CR & FC and Air Force. Our weekend visit also coincided with an "event" in Seenigama, organised by the Foundation of Goodness, a non-governmental organization that has been active in the community of Seenigama and other surrounding villages during the last seven years. Foundation of Goodness is the brainchild of Priyadharshini's brother Kushil Gunasekara.
Foundation of goodness
Starting on a very small scale, the Foundation of Goodness had been run through a Community Centre that was attached to Kushil's ancestral home in Seenigama that had been converted into a holiday bungalow. The Foundation was mainly engaged in education and youth development activities as well as responding to ad-hoc individual needs of villagers. The holiday bungalow and the community centre had both been devastated in the 2004 tsunami. Though it was a tragic disaster, ironically, the tsunami provided the much-needed impetus to expand the activities of the Foundation.
The two existing structures had then been converted into a fully functional Relief Centre Secretariat. In the years that followed, the Foundation had grown rapidly with the ability to respond to the growing needs of the displaced and the tsunami-affected villagers. The focus had shifted from responding to individual ad-hoc needs, to addressing the needs of an entire community. The simple ceremony that was held there last December marked the elevation of the old community centre to a "Centre of Excellence" that would provide greater opportunities in life to the village youth, a privilege once enjoyed by Kushil himself but not his less fortunate friends in Seenigama village. Marylebone Cricket Club (MCC) being the main sponsor, the "MCC Centre of Excellence" (as it is now called), was declared open by none other than Mike Brearley, the former England test cricket captain and present MCC President.
Also in attendance were the local MCC Trustees Vijaya Malalasekera, Ajith Dias and Mano Ponniah. The opening of the new cricket ground, pavilion and indoor nets at Sri Sumangala College in Hikkaduwa (another project sponsored by the MCC) also took place on the same day.
Sons of Hikkaduwa
Hikkaduwa being my birthplace, I am proud to share common ground with a host of other personalities who were also born in Hikkaduwa, and have made great strides in life and achieved success in their chosen fields elsewhere. In keeping with the purpose of my last visit, I wish to give pride of place in this article to the founder of the Foundation of Goodness Kushil Gunasekara. Kushil is a man of many facets – businessman, cricket administrator, Rotarian just to name a few. He is perhaps best known as the Business Manager of Muttiah Muralidaran, the cricketing spin wizard who has helped immensely in putting Sri Lanka on the cricket map of the world. Kushil himself was a good cricketer who played for Ananda College and later club cricket for SSC and Tamil Union. He has dedicated himself to humanitarian service and community development for the past 15 years. Apart from his pet project - the Foundation of Goodness, he is presently engaged in managing other charities such as the Muralidaran, Vaas and Gunasekera Foundation (MVGF), and a scholarship fund for 500 children of deceased soldiers.
Scholars
Hikkaduwa is famous for producing great scholars such as Thotagamuwe Sri Rahula and Hikkaduwe Sri Sumangala theros. Apart from the scholar monks, Professor A.D.V. de S. Indraratne achieved fame as one of Sri Lanka's foremost economists. Professor M.B. Ariyapala turned out to be a much respected academic. The family of former Vice Principal of Ananda College Vinnie Kirthisinghe lived just a few houses away from my ancestral home. Two of his brothers Professor Albert (formerly of the University of Ceylon) and Lionel (Science Graduate) were teachers. Though not exactly a "son" of Hikkaduwa, another of my maternal aunts Nellie Gunatilake needs to be mentioned here. She was the Headmistress in the village girls' school.
Medical doctors
Hikkaduwa has also produced a significant number of medical doctors. Quite a few members of my mother's family entered the medical profession. My maternal uncle the late Dr. O.G. Weerasinghe was at one time the Medical Superintendent of the Colombo General Hospital and later retired as the Superintendent of Health Services in Colombo. His son Dr. S.P. (Parakrama) Weerasinghe is an Obstetrician and Gynaecologist in the private sector having retired a few years ago from the De Soysa Hospital for Women where he served as a Consultant. My mother's older sister bore three children, two of whom qualified as doctors. They are the late Dr. H.C. Uragoda (Medical Administrator) and his brother Dr. C.G. Uragoda (Chest Physician). Next to the scholar monks, the latter is perhaps the most distinguished son of Hikkaduwa of a later generation. Apart from his high academic qualifications (including a Doctor of Science degree) and numerous research papers especially on chest diseases, he has also authored many books on wildlife and the history of medicine in Sri Lanka. He is also a past President of the Sri Lanka Medical Association, Ceylon College of Physicians, Sri Lanka Medical Council and the Royal Asiatic Society of Sri Lanka.
Names of other doctors with roots in Hikkaduwa that come to mind are the late A.D.V. Premaratne (brother of Prof. Indraratne and General Practitioner in Chilaw who was also President of the Independent Medical Practitioners' Association), B.J. Masakorala (General Surgeon), M.V.Lakshman de Silva (Public Health Physician turned hotelier), Kulasiri Buddhakorala (Venerealogist), Sarath Samarasiri (General Physician), Nalin Nanayakkara (Obstetrician and Gynaecologist in California) and Sanath de Tissera (Psychiatrist in Perth). Two other brothers in the Kirthisinghe family referred to above – Ritchie (General Practitioner in Ambalangoda) and Bertie (General Practitioner in Moratuwa), were also doctors. Dr. Lakshman de Silva's brother M.W. R. (Ranjith) de Silva is an internationally known Marine Biologist. Apart from those mentioned above, there must surely be many more such distinguished individuals especially of the younger generation that I have missed.
Changing face
Hikkaduwa was the first southern coastal town to develop as a tourist resort. Even today, the main attraction there is the coral reef, clear blue waters and the golden beach. Hotels, restaurants, handicraft shops etc have sprung up like mushrooms. Land prices have skyrocketed. There is no doubt that the people in the area have benefited much from the changes that have taken place during the last few decades. Old landmarks have disappeared and new ones have emerged. I remember my mother talking about the Surasinghe Bakery of Hikkaduwa. On my last visit to my birthplace, while driving through the town, I was happy to see that the Surasinghe Bakery still stands despite all the changes that have taken place around it. Hikkaduwa will keep changing, but I will keep going back there to revisit my birthplace.
Acknowledgements
As stated above, I myself lived in Hikkaduwa only in my very early childhood. In compiling this article, I therefore had to seek help from someone who continued to maintain contact with the area for a longer period, especially in identifying distinguished personalities who had emerged from Hikkaduwa. I wish to thank Ranjit Santiago of Connecticut in this regard. Ranjit who is a former Director of Marketing at Bayer Pharmaceuticals in USA and presently an international consultant to the Dutch pharmaceutical company Akzo-Nobel, has been a close friend from the time we were classmates at Ananda College. Although he is a native of neighbouring Ambalangoda, Ranjit's father the late S.P. De Silva had served as the Post Master in Hikkaduwa in the early forties.