Making Juno was fun says Lankan actress
Kaaren de Zilva stars in Oscar-winning film
Versatile actress of Sri Lankan origin Kaaren de Zilva plays a pivotal role in the Oscar winning feature film "Juno," directed by Jason Reitman. An offbeat, comedic, and yet poignant teen movie, "Juno" is a story that meets the unplanned pregnancy issue head on.
The film earned four Academy Award nominations including Best Picture and Best Director with the talented young Canadian Ellen Page nominated for Best Actress for her performance as the protagonist, Juno MacGuff. First-time screenwriter, Diablo Cody, an ex-stripper and Internet cult figure, won the award for Best Original Screenplay.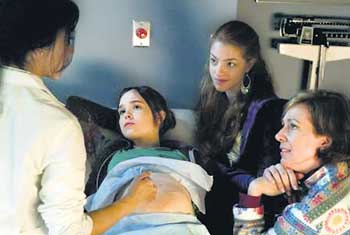 One of the pivotal scenes in the film
Along with Page, the Fox Searchlight film stars newcomer Michael Cera along with a veteran supporting cast that includes Allison Janney, Jennifer Garner, Jason Bateman and Kaaren de Zilva. The film presents the story of an eccentric, sarcastic 16-year-old girl whose first attempt at physical love with her shy, nerdy boyfriend results in an unwanted pregnancy. Juno's initial response is to seek an abortion, but along the way she has a change of heart and decides to have the baby and place it with the "perfect parents"."
Kaaren who has made numerous appearances in episodic TV shows such as "The L Word", "Da Vinci's City Hal" and "Stephen King's Dead Zone" turns in a powerful performance as the ultrasound technician in "Juno"."It was a lot of fun making 'Juno,' especially working with Ellen Page, Allison Janney, and Olivia Thirlby, who plays Juno's friend Leah," says Kaaren.
One of the pivotal scenes in the film is when Janney goes head to head with de Zilva in the examining room while a wide eyed Ellen Page looks on. The emotionally charged scene sees the ultrasound tech having a strong influence on the pregnant teen choosing life over abortion.
The scene has been featured on "The Ellen Degeneres Show". Born in the United Kingdom, Kaaren grew up in Canada and describes her ancestry as an eclectic mix. Her parents were born in Sri Lanka and throughout the family tree the predominant ethnicities are Portuguese and Dutch.
She began her pursuit of an acting career at a young age, attending the Gastown Actors' Studio in Vancouver, British Columbia with Mel Tuck, as well as receiving tutelage from Ivanna Chubbick and Larry Moss.

"My mom was a dance teacher in England and was a huge influence in my dance training, which started at the age of four," says Kaaren. "Performing in dance productions from a young age certainly awakened me to different artistic expressions and created a true love for acting. My brother works in the production side of the industry and my father's company, Eyetech Optics, has created many special effect contact lenses for various films and television shows."
2007 saw Kaaren hitting a career high point with "Juno" and the thriller "Post Mortem" aka "I Know What I Saw" in which she plays the psychic Nadira. She has also completed shooting on "The Last Mimzy" as well as a television mini-series that examines the complexities and culture of the Asian crime triads, "Dragon Boys".
"I have enjoyed all my roles and have had the opportunity to play a variety of different characters," says Kaaren, who currently makes her home in Vancouver, but travels frequently between Hollywood North and Hollywood, California.
Despite her busy career, Kaaren manages to keep a strict regimen of cardio and weight training, and finds time to relax with her hobbies of shooting pool and playing Texas Hold 'em poker. She also likes to spend quality time with her Bernese Mountain Dog.
Although her passion for acting is what drives her artistically, she also hopes to one day establish her own production company."It's something I really want to do," she says, "because I know some really talented writers whose stories need to be told and heard."