Specially for children

It's very rarely, if at all, that stamps specially meant for children are released in Sri Lanka. The Philatelic Bureau recently broke new ground when three stamps were issued depicting a popular children's story. This is the first of a series of such stories, the Bureau announced.
'Hare and the Tortoise' is the story selected for the first set of stamps. Three scenes from the story were picked to illustrate the three Rs. 5 stamps. The three stamps were released to mark the International Children's Broadcasting Day which fell on December 9. Designed by Bandula Harischandra, the stamps are very colourful and well printed by the Department of Government Printing, Sri Lanka. Incidentally, until recently stamps were printed outside Sri Lanka but now the Department seems to be doing a good job.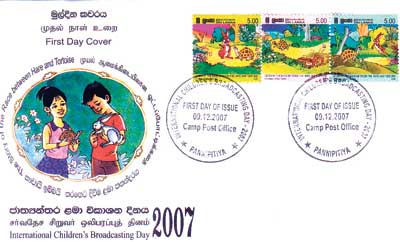 As for the story of the Hare and the Tortoise, even though it is well known it's worth refreshing our memories as to what happened to the famous race.
Everyone in the jungle knew that tortoises can't run. So when the hare and the tortoise decided to have a race, it became a big joke. However, the two were determined and they discussed how they would conduct the race (seen in the first stamp).
The hare had a flying start running fast like lightning and was well ahead of the tortoise. By the time the tortoise started in his own quiet way the hare had run away.
Although the other animals watching the tortoise moving slowly, started laughing, he did not care. It continued to move slowly at its own pace. The hare, who ran fast, looked back and found the tortoise missing. "I can take a rest and start again," he thought and went to sleep. The tortoise walking at his slow pace overtook the hare (see second stamp) who was fast asleep.
By the time the hare woke up, the tortoise had nearly finished the race. He rubbed his eyes and ran fast to overtake the tortoise but failed to catch up. The tortoise had already reached the winning post (as seen in the third stamp). The other animals could not believe it but the tortoise had won the race.
Children are bound to be pleased with the decision of the Philatelic Bureau to do something special for them. They will however wish that the Bureau see that these stamps are freely available, so that they will be able to collect them without a problem. The easiest way to encourage children to start the hobby is to get them to collect from letters. But often the distribution of new issues is so limited that most post offices do not get sufficient stocks for sale.