AGMs for ICs to be called up soon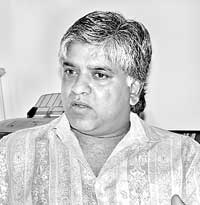 No problems for Ranatunga as yet
"Annual General Meetings of all Interim Committees besides cricket will be held soon and the Gazette Notification to that effect will be published in the near future" said the Minister of Sports and Recreation Gamini Lokuge.
He said that there are nearly ten such Interim Committees in effect presently.
The Minister also added that he is against politicians getting involved in sports. But, the only exception to that is the position held by the Cricket Interim Committee head Arjuna Ranatunga. He added that Ranatunga's achievements in the field of cricket were almost unmatched as he is the cricket captain who brought the World cup to Sri Lanka.
The minister was also of the view that those who serve in the Interim Committees should not paid for their services done in that particular field of sport and added that he had learned that some members of interim committees have obtained payment for services rendered.