When is it just a sore throat and when is it rheumatic fever?
Ever had a sore throat? It usually settles with conservative measures or sometimes with some capsules that the doctor gives you. But have you ever heard of rheumatic fever due to a sore throat? The culprit in this case is the bacterium called 'Streptococcus pyogens'.
Most of the time, a sore throat is caused by micro-organisms called viruses, and is supposed to get better on its own. However, in a minority, when the sore throat is due to the micro organism called bacteria, it needs treatment. If it is caused by the bacterium called 'Streptococcus pyogens', it could lead to the condition "rheumatic fever", which affects the heart.
The disease does not affect everyone, only some, and usually occurs in the age group between 5 to 15 years. It is now not as common as it used to be. But adult patients, who have had this condition as children, are still seen suffering from its complications.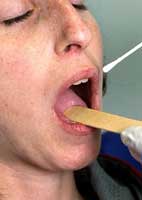 Taking a throat swab
Rheumatic fever occurs when the immune response we mount in our body against that bacterium, misinterprets our own tissues as harmful. So our immune system starts to attack our own tissues, the most important being the heart. Thus, in some children with streptococcal sore throat, rheumatic fever develops 2 to 3 weeks after the illness. It starts as joint pain and swelling which migrate from one to another large joint such as knees, ankles, elbows and wrists. At the same time, the child could have fever, small hard nodules under the skin and on rare occasions, a skin rash. If the heart is affected the doctor would diagnose abnormal sounds in the heart.
At this stage the child needs hospitalization and bed-rest with vigorous treatment. The most important aspect of the disease is that once someone gets rheumatic fever, he or she is more likely to get it again after another sore throat. Hence, that patient needs long-term antibiotic treatment to prevent further attacks of sore throat.
A patient whose heart is badly damaged due to the condition will need to have the valves repaired or replaced and be on long term medication to prevent the heart from failing too. Whenever undergoing any surgical procedure, even a dental extraction, the patient will need to have additional antibiotics to prevent other micro organisms harming the heart further.
Fortunately, rheumatic fever following sore throat is not very common. However, it is not possible even for a doctor to conclude that a sore throat is of viral or bacterial origin just by seeing the patient. To make that diagnosis, investigations such as where the doctor swabs the patient's throat with a sterile swab and sends it for a culture test or a rapid diagnostic test are performed.
Depending on the results, if the infection is bacterial, a course of antibiotics should be prescribed. Yet, due to practical problems sometimes doctors resort to antibiotics when clinically the sore throat is more likely to be bacterial, to prevent complications because investigations could be both time and money consuming.