Kenyan political rivals agree to review of much disputed election
NAIROBI, Kenya, Saturday, AP - Kenya's political rivals announced a 10-point plan to resolve their political crisis after weeks of negotiations but they remained deadlocked over that crucial issue of power sharing.
The two sides did make progress on other issues, including agreeing to an independent review of the election at the center of their dispute. The Dec. 27 presidential vote unleashed weeks of ethnic violence that left more than 1,000 people dead and displaced hundreds of thousands.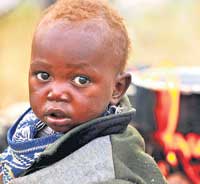 A boy from the Kikuyu tribe, displaced during post-election violence, sits near a cooking pot. REUTERS
''Let me assure you that there is real momentum,'' said former U.N. Secretary-General Kofi Annan, who is mediating the political talks. ''We are at the water's edge and the last difficult and frightening step, as difficult as it is, will be taken,'' he told reporters.
Opposition leader Raila Odinga and President Mwai Kibaki have been under international pressure to share power as a way to resolve their dispute over who won the election. Odinga says Kibaki stole the vote and should step down. Kibaki insists his position as president is not negotiable.
For some Kenyans, patience was wearing thin. Even if a political solution comes soon, the damage done already to the national and social fabric and to the economy will take years to reverse.
''Why are they not hitting the main issue so we can have a normal life in Kenya?'' 35-year-old Dan Omondi told The Associated Press in Kisumu, which has seen some of the worst of the ethnic violence. ''When you are hungry, you need food, not appetizers.'Annan said it has become the most difficult task in his long career and, in an indication of his frustration, warned he would not be provoked into withdrawing from the negotiations.
Hard-liners obsessed with self-interest, especially on Kibaki's side, are blamed for the deadlock. Several countries including the United States have threatened unspecified ''consequences'' against people who might cause the talks to fail.U.N. Secretary-General Ban Ki-moon said he was ''encouraged by the progress'' and urged Kenya's leaders ''to continue to display the spirit of compromise and the vision of national reconciliation that will be critical to healing the Kenyan nation.''Much of the violence has pitted other ethnic groups against Kibaki's Kikuyu, long resented for their prominence in politics and the economy.
Kibaki, speaking Friday at the launch of the new Pan Africa Christian University in Nairobi, regretted that educational institutions have been among buildings looted and burned, and he urged conciliation with those in the opposition whom he has blamed for the violence. ''We must not abandon them because there is no way we can do without them. We need them,'' he said.
The preliminary agreement signed Thursday after 48 hours of secret talks calls for an independent review committee ''to investigate all aspects of the 2007 presidential election.'' The committee will include Kenyan and non-Kenyan experts, start work March 15 and submit its report within three to six months. The report will be published two weeks later.