Clinton says she's the middle class candidate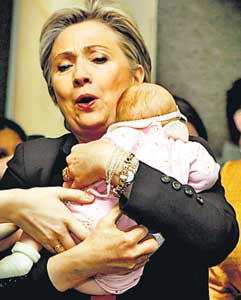 Hillary Clinton carries a baby at a campaign stop in Ohio. AP
WASHINGTON, Saturday (AP) - Hillary Rodham Clinton declared herself the candidate of middle class Americans as she struggled to hold off a hard-charging Barack Obama in upcoming Democratic contests in the industrial heartland that could determine the fate of her presidential campaign.
But it was Obama who collected a key labour union endorsement on Friday, at the same time he criticized his rival for supporting legislation harmful to workers such as the North American Free Trade Agreement.
In the Republican race, John McCain, the party's presumptive nominee, was to receive an endorsement from former President George H.W. Bush on Monday, Republican officials said. Clinton has relied on working-class Democrats for much of her support in six weeks of presidential primary contests across the country and is counting on them to pull her through upcoming high-stakes primaries in Wisconsin on Tuesday, Ohio and Texas on March 4, and Pennsylvania on April 22.
Obama challenged Clinton's credentials as a champion of working-class Americans as he travelled across Wisconsin, hoping to add the state to an impressive string of victories. Obama leads the chase for nomination delegates 1,280-1,218. It takes 2,025 delegates to secure the presidential nomination at the party's convention this summer in Denver.