Madhu: Where a routine bus ride ended in a blast
For 16 year old Mary Consita and her two younger brothers the journey on Tuesday in the ill-fated bus was routine after attending classes in the makeshift school in Madhu. She was on her way to a temporary home meant for refugees where she was staying with her five brothers and parents.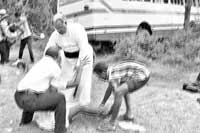 One of the priests at the Madhu church helping the injured
The Rosa mini bus which could carry 30 passengers was packed with schoolchildren, teachers and some villagers and was into its final 10 minutes of its journey.
The bus had reached the Madu Church Sanctuary area when it was caught in an explosion that claimed the lives of 20 including two of Mary Consita's brothers – Anton Bruno, 13 and Anton Brito 15.
Speaking from the Kilinochchi hospital where she is undergoing treatment for serious injuries Mary Consita said soon after the blast she heard voices saying hide under the seats and immediately she heard artillery shells landing in the area."It sounded like thunder.
But I soon realized that the bus was caught in an explosion. I may not go to school again as I am frightened to travel on that road again," she said.
Consita's family originally lived in the Eluvanthivu island, off Jaffna before they went to Madu as refugees in 2006 where her father made a living as a labourer. Many of those injured in the blast were first moved to the Olangavil hospital. Ten of the injured were taken to the Kilinochchi hospital, 40 kilometres away.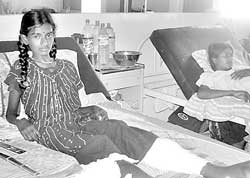 Mary Consita at Kilinochchi hospital
The bus heading from Vallankulam usually picks up schoolchildren along the 15 kilometre stretch to the Madu Church area where most of the displaced people stay.
The LTTE has blamed the army's deep penetration unit for setting off the roadside claymore mine blast, but the military has denied the allegation. Mannar's Bishop Rayappu Joseph told The Sunday Times the area where the blast took place was gazetted as a reserve of the Madu church in 1882 and was a kilometre away from the church. He said he had made several appeals to declare the area a peace zone.
Meanwhile a spokesman for The Catholic Bishop's conference of Sri Lanka (CBCSL) said they were awaiting the arrival of Bishop Rayappu from Mannar to get details of the incidents.
In a statement condemning the incident the CBSL said, "We reiterate that these acts of violence will not lead us anywhere but only cause so much suffering, destruction and chaos making the cause of peace more and more a distant dream."