No more Citizen 'XXX'
Stateless descendants of the Chinese who came here in the early 20th century will at last be able to call themselves Sri Lankans.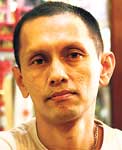 Roger Foo Kwei Hsu.
They followed in the footsteps of the famous Chinese traveller Fa-hsien, coming overland to India and crossing over to Sri Lanka. Whereas Fa-hsien sailed via Sri Lanka back to China after spending two years here and collecting Buddhist books in the fifth century, the Chinese who came in the 20th century never went home. For, they made Sri Lanka their home away from home and now nearly 75 years later most of the early migrants in the 1930s have been buried here.
Sadly, in their lifetime, though they contributed much to the economy of the country, they remained with XXX against the 'Nationality' line. Stateless they have been over the years, silently carrying out their different trades. Now scattered across the country and numbering not more than 200, the ethnic Chinese have branched away from the work of their parents.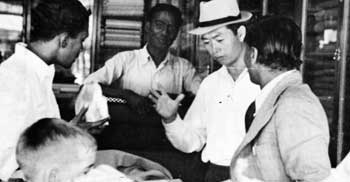 Roger Foo Kwei Hsu's father in hat in his textile shop long ago.
As the country celebrates the 60th year of Independence, a new chapter also opens out to the Chinese, with Prime Minister Ratnasiri Wickremanayake who is also Internal Administration Minister, gaining a nod from the Cabinet of Ministers to a memorandum to grant citizenship to the stateless Chinese who have lived here for a long period. A draft Act to grant citizenship to persons of Chinese origin is to be presented in Parliament.
Many were the trips to government offices that Chwing Chi Chang of Matugama made to make this a reality. The daughter of one of the early settlers, Ching Cheng Aun, now no more, her voice is tinged with sadness as she says that what her parents' generation couldn't do for their children, the present generation has achieved for their progeny.
That of getting Sri Lankan citizenship. Up to now they have been in possession of only an Identification Certificate sans a nationality which enabled them to travel, if they wanted to. "When people with these certificates travel, immigration authorities in other countries look at them strangely," she says in a telephone interview. "Visas are also refused sometimes."
It was a simple human rights issue, The Sunday Times understands, for the people of Chinese origin could not hold a passport, did not have voting rights, could not secure state employment and could not buy land. This had compelled many youth to leave the shores of Sri Lanka.
For her, the lives of the early settlers of Chinese origin are clear because many were the stories her father used to tell her. "My father came to Sri Lanka in 1933 as a 10-year-old," she recalls, explaining that if only The Sunday Times had contacted her six months earlier we would have been able to speak to him. "He died four months ago," she says sadly. Ching Cheng Aun, was the eldest of five brothers, whose parents owned land in China. They were paddy farmers but frequent flooding forced them to look for other means of existence.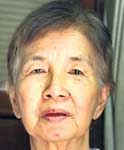 Y.J. Moo
The very first migrants did not know the language of the country they had adopted. But they were enterprising and industrious.
Most of them, as small communities do, set up base close to each other in Hulftsdorp, but the menfolk fanned out across the country. With bundles of textiles on their heads or bags full of dentures, they went from town to town. They were either textile sellers or dental technicians. "They looked at the Sri Lanka map but as they couldn't read, spotted the large circles which marked main towns and went to those places to carry out their trade," says widowed Chwing Chi Chang, who topped the batch when gaining a zoology special degree from the University of Peradeniya.
First they went by train and walked miles on end, gradually they became more mobile after buying bicycles and finally they set up their own little places, the "remnants" some small, some flourishing businesses, of which can still be seen in Maradana, Wellawatte and Negombo.
Harking back to the time of his parents, Yu Cey Chang, ruggerite and businessman, explains that all the Chinese in Sri Lanka have their roots in two provinces back in China – Hupeh and Shandong. Those who came from Hupeh became dental technicians while the others from Shandong (as mentioned on some nameboards down Maradana way) took up textile sales and running restaurants.
They not only married from within the community but in many instances looked further afield, like his own father, and wed from other communities, jolly Yu Cey Chang, whose mother is a Sinhalese says. He is proud to be of a fine multicultural mix, for his wife is a Burgher and his children are married to Bohras and Muslims.

Yu Cey Chang.
The reasons were economic, for the Chinese to look for opportunity elsewhere, than in their own homeland, he says echoing the sentiments of Chwing Chi Chang. They left China, filtered through Singapore, Burma, Calcutta, Delhi, Bombay down to Madras and then crossed over to Sri Lanka on the ferry, settling in Hulftsdorp lock, stock and barrel. "The influx was not large enough to make it a China Town," laughs Yu Cey Chang, adding that his family home is down Lockgate Lane in Hulftsdorp.
In the fifties, according to him there were moves to crackdown on dental technicians, and that sent out a ripple effect. The younger generation is highly qualified, he says. "They are doctors, veterinary surgeons etc." Ticking off on his fingers the families, along with his own who left Hupeh Province, he rattles off a list of six names……Wei, Yu, Ching, Yee, Chang and Shiek.
Yu Cey Chang gives an insight into Chinese nomenclature. "The first name is the surname and in my case Chang is the given name. The Cey indicates that I am Chang of Chelang or Ceylon," he elaborates. Like with the Chinese all over the world, the work ethic is amazing. "Holidays are a headache for them," says Yu Cey Chang.
Why the Chinese are able to work late on working days and even on holidays is obvious when The Sunday Times visits their establishments. Their workplaces also double up as their homes – the front of the building is the business and the back their home. So they are at the workplace 24 hours a day.
Y.J. Moo, 72, arrived with her parents from India when she was just a year-old. "I am totally Sri Lankan bred and have lived all my life here and was educated at Clifton Girls' School at Maligakanda," she says, seated in the dental technician's office which was run by her husband who has now passed it on to their son.
Her parents both from Hupeh, were traditional Chinese and her mother even wore the loose trousers and blouse with buttons on the side, typical of the clothing of the Chinese. Her father was in trousers and shirt, but while working would get into pyjama kalisama and banian. "My mother also had tiny feet," she says, giving visions of a custom back home where little girls' feet were bound tightly to make them small.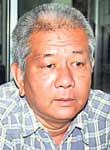 Shen Woei Chang
Memories are vivid of the Chinese New Year. On New Year's eve, their home in Maradana would be thoroughly cleaned and about 10-12 dishes cooked. Just before they sat for the meal, portions with some red colour in them would be ladled and kept as an offering to their dead ancestors. After that everyone would sit at the table together and tuck in."The cooker would also be cleaned and the kitchen god offered some food as well," says Y.J. Moo. On New Year's day itself, early morn, before the cock crows a small table, laden with sweets, would be laid out in the garden, once again as an offering and the children would laugh and play while lighting crackers.
"The elders would play mahjong," she reminisces, willingly pulling down black-and-white photographs from shelves. Soft-spoken Y.J. Moo explains that their usual fare would be steamed rice, fish, chicken and vegetables such as cabbage and thampala. "And yes, her Dad did use chopsticks. Her Mum did not understand a word of Sinhalese, so they spoke the Hupeh language at home. All the children were good in Sinhala."
The story is more or less similar in the case of Yee Shiou Sen, 76, who came here with his parents. Still working the usual hours, he runs Styletex in Negombo. The language problem stopped him from attending school, as a youth, but now he speaks all three well. Seated amidst beautiful vases and other knick-knacks from China, a great believer of Feng Shui, testimony of which is the ornamental frog and the cockerel on the table, Roger Foo Kwei Hsu is a second-generation Chinese. His father came to Sri Lanka in 1936 from Shandong because of the war.
"Remember, Japan invaded China and my father's father was shot dead around that time. My father escaped, got on an Italian ship and settled in Sri Lanka," says Roger Foo Kwei Hsu, himself a father of three little ones, whose Sinhala wife helps him in the plush 'Chinese Gift Palace' in Wellawatte.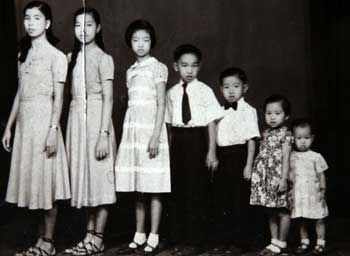 Y.J. Moo as a teenager heading a line of relatives
His father took the same path as the others, trading textiles around the country on foot, getting mobile and then because the materials in the 1970s were of low quality, expanding into toys and gifts. "My father was also an excellent cook and there were dumplings, fried noodles, Chinese bread, stir-fried dishes and soups on the table on Sunday," says Roger Foo Kwei Hsu, 41.
The Chinese would always meet at a Chinese restaurant and many are the gatherings, the fun, the laughter and the good food, that he remembers at the Lotus Hotel in Kollupitiya. "My father set up the Bandarawela Chinese restaurant," he says, adding that now it has another owner.
The memories flow…….elders gathering to play Mahjong, while sipping tea and the sessions going on from night to next morning and discussions on the terrible times in China under Mao Tse Tung. Roger Foo Kwei Hsu who unlike his father has made many trips back to China, 15 in all, is regretful that the early migrants remained stateless or "homeless" even though their birthright was always here.
Their plight is succinctly summed up by Shen Woei Chang whose father also came from Shandong and ran the 'Chinese One-Price' Store in Maradana. Adamant that it was a blessing that he had come to Sri Lanka, considered a trading hub in the 1930s and 40s, Fung Tong Chang, now 81, along with his wife, is no more into business, but relaxing and enjoying his grandchildren, says the son. But, unfortunately, like the others of his generation believed to be not more than eight or nine, he is "neither here nor there".
Quietly and gently, this stateless group has made its mark and it is timely that they are being given their rightful place as citizens of Sri Lanka. What should they be called when the XXX before the nationality clause is wiped out? "We must coin a name," laughs Dr. C.H. Chang, while attending to the dental needs of a patient at his Borella clinic.