Thilina creates history in local pool nationals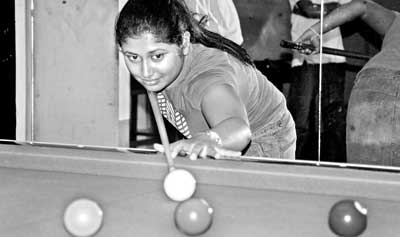 Thilina Silva(QPP) taking aim for her next shot in her tie against S. M. Zulfikar of the YMCA. (Pic By Ranjith Perera)
Thilina Silva created history when she became the first female to participate in a major tournament in the history of cue sports in Sri Lanka by participating in the sixth 8-Ball Pool nationals conducted by the Billiards and Snooker Association of Sri Lanka which got underway yesterday at the Apex Pool Parlour in Borella.
The twenty year old lass a past student of Colombo South International School was brimming with confidence just before preparing for her first major game. Earlier in the day she was not able to show her talent receiving a walk over in the first game. Speaking to The Sunday Times before her match Thilini when asked how she feels being the only female competitor among over 100 male participants. She said "I am used to this; I have been playing at Queens Pool Parlour for the last two years as the only women competitor so I take this just as another match".
She continued "At the inception I was just playing for the fun of it and now I would like to take it seriously. In fact she has on an earlier occasion clinched the mixed doubles title in 2006 and has also been the runner up at MCA Hot Shot tournament the same year".
Studying for her CIMA at the Academy of Business Studies and a first year student at the Colombo School of Architecture, she intends taking part in more tournaments in the future during her free time.
Tournament - wise she had a wonderful game in her first appearance at a major tournament when she gave the experienced S.M. Zulfikar of YMCA who incidentally is a renowned local cueist a torrid before going down by four frames to three in the seven frame clash.
The teenager showed that she has the will power which is needed in this sport and has a bright future provided she put in more effort. Her participation is also an encouraging sign to other aspiring females who want to participate in major tournaments of this nature.
The 8-Ball Pool national which is in progress took a big leap from last year where only 32 participated with this time 135 vying for honours for the title. There were fluctuating fortunes for seasoned campaigners with some being thrown out in the first match and a few proceeding to the next stage. The semi finals and final are scheduled to be played on January 20 and 22 from 4.30 p.m. onwards.
Results:
Anver Azeez (MSC) beat A.M. Hassan (QPP) 4/2. S. M. Zulfikar (YMCA) beat Thilini Silva (QPP) 4/3. T.H. Silva (LB) beat Faisal Haniffa (YMBA) 4/3. T.H. Silva (LB) beat S.I. Hinoon (YMBA) 4/3. W.A. Dinesh (MICH) beat M. Irfan (EPP) 4/2. Robin Aniff (MICH) beat K.M. Hameed (YMCA) 4/0. M. Roshan (KSPP) beat K. Lahiru (LB) 4/3. TT.P. Azeem (YMBA) beat M. Nazurdeen (BPPP) 4/1. S.M. Ibrahim (EPP) beat D.H. Thilakasiri (Army) 4/2. M. Amila (LB) beat G.R. Wickramanayake (Airlines) 4/2. M. Amila (LB) beat B.R. Thilakaratne (BRC) 4/0. M.S.M. Nasurdeen (BPPP) beat M. Akilan (RSS) 4/2. A.M. Hassan (QPP) w/o from O.H. Sulaiman (MSC). Thilini Silva (QPP) w/o from L. Joseph (YMCA). S.M. Zulfikar (YMCA) w/o from Riyas Yazeen (MSC). S.I. Hinoon (YMBA) w/o from M. Kamil (RSS). Ahamed Asham (EPP) w/o from S. Prem Anand (YMCA). B.R. Thilakaratne (BRC) w/o from A.M. Farzam (EPP).