The real challenge
For a moment I forgot as to where I was. I thought that I was at the Sunday 'Pola' doing my weekly marketing. They were all there -- some with no hidden agendas and some writhing in anticipation with their empty bags waiting for the arrival of the new cricket chief in Sri Lanka. However if any one who was there was looking for a cheap buy, he was down the wrong alley.
There came a very strong statement by the new SLC Interim Committee Chairman Arjuna Ranatunga on Wednesday when he assumed duties. He said "I have come here with clean hands and intend remaining that way. One of my first acts will be to appoint an independent auditor to go into the accounts. I have not come here to prepare myself for an election. I am here to develop the game. So I will not tolerate rogues under my administration". A very strong statement indeed.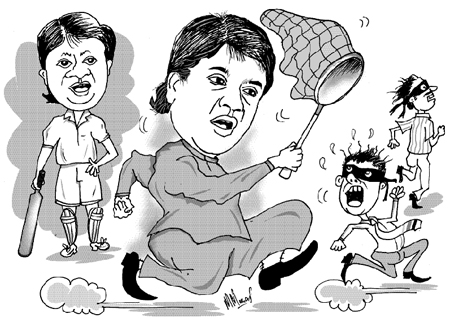 For years on end this had been the bane of Sri Lanka cricket. Petty politics ruling the roost and the incumbent cricket chiefs bending over their backs to please rogue elements just to get that 'vote' to keep them in power. We all know of a certain cricketer who started his life as a normal employee of a government institution, but has converted himself into a very wealthy man just by being a powerful king maker and a man involved in cricket from a southern part of the country. These are the bad elements that the game does not need. The sooner that you get rid of these elements the sooner that the game would resurrect itself to the desired levels. Cricket is full of hangers-on. They are there to see what they can take from the game and not there to see what they could contribute to the game so that the decay will not continue.
Arjuna says that he is going to have a complete audit before he launches his campaign. We feel it is high time that a thing of that nature came to being. The Murali signature scam at Asgiriya, SLC cricket material sold in the open market and the other little niggles are the little fish that will have to be netted in first. But, the net should not stop there. Then there were other reported deals and seals that have to be looked into. Then last but not least, the expenditure on ground development will also have to be looked into. There was a sum of Rs.400 million spent on the Dambulla Cricket Stadium, and then there was a Rs. 500 million spent on the revamping of the tsunami hit Galle cricket stadium. It is imperative to ascertain that these huge sums of monies were only spent towards the well-being of cricket and not individuals.
At the same time the exercise should not be a witch-hunt against any individual, but a open minded check-out just to feel that your officers have done fine and are above board. However if any one is found to be crooked appropriate action also should be taken without bias.
In short this whole exercise should be very transparent.
Turning inwards and revisiting the schools arena is very commendable. However the problem may be more complex than what you see on the surface. In the good old days a school played a few matches (3-4) against what was termed as lesser opponents in the third term and that was only a team building process. This exercise was to ascertain as to who would be in the final composition for the first term matches. In the first term a school played a maximum of 8-10 matches against their traditional rivals which was always of equal strength. The magic of it is that at the end of the season schools produced cricketers of high calibre who were second to none in their age group in the world.
Then in the mid eighties with the Schools Cricket Association taking full control of the situation the system changed and the game was broad based. This had another advantage. Cricketers from lesser known schools started coming into the limelight and going on to claim national status.
However due to some inexplainable reason, the standard of school cricket began to deteriorate. Now a school plays around 18-20 matches a season which is first a huge monetary burden on the school. Now some of the traditional matches are even played in the third term. School cricket has totally lost its direction and the end result has been quantity sans quality and Sri Lanka is losing to Bangladesh on a regular basis at Junior level.
It goes without saying that the new SLC Interim Committee President is fully aware of this predicament. But, it is intriguing to see how remedial measures would be brought in.
On the one hand we need to broad base the game and harness outstation talent to the maximum. On the other we must produce a school cricket system that churns out quality cricketers who would come and challenge the status quo.
We do not think any patch-up system would bring in the desired results. Some radical new thinking has to be infused into the system. It has to be a radical but practical system that would revive this dying giant.
Nevertheless with some of the best cricketing brains expected to put their might behind Arjuna's effort, there may not be another forum who could accomplish this task too.
Once again a little piece of advice from the media –"The world is watching you".