Ranganath stars in drawn game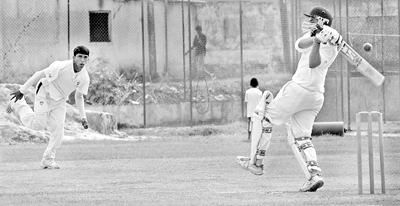 Ananda batsman Udara Jayasundera pulls Peterite paceman Vinosh Perera. (Pic by Saman Kariyawasam)
Ananda skipper Ranganath Wijetunge starred with twin half tons in their drawn Under 20 inter-school cricket encounter against St. Peter's at Bambalapitiya yesterday. Ananda failed to drive home the advantage after holding the edge against the Peterites in the morning session.
The home side resuming on their overnight score of 54 for 1 were in a healthy position at 100 for 3 but the Anandian bowlers struck to have them struggling on 155 for 6. They failed to put pressure on the late order batting who succeeded in denying the visitors any success.
Though it seemed that the Petes would not be able to avert the follow on some sensible batting by Chatura Peiris and Shivanga Ranasuriya saw them recover to end their innings on a respectable 235. With an inevitable draw on sight the Anandians secured some batting practice ending the day on 186 for 6.
Ananda 305 for 8 declared (Udara Peiris 65, Ranganath Wijetunge 64, Sameera Wijesuriya 42, Mateesha Perera 35, Sameera Nanayakkara 42 n.o.; Angelo Perera 2 for 21, Navin Kavikara 2 for 37, Chatura Peiris 2 for 43, Thivanka Silva 2 for 66) and 186 for 6 (Udara Jayasundara 43, Udara Peiris 37, Prabodha Seneviratne 28, Ranganath Wijetunge 66 n.o.; Vinod Perera 3 for 34)
St Peter's (54/1 o'night) 235 (Andre Berenger 45, Anuk Silva 40, Chatura Peiris 39, Shivanga Ranasuriya 33, Srimantha Wijeyaratne 23; Ranganath Wijetunge 4 for 40, Udara Peiris 3 for 59, Ishan Wickramasinghe 2 for 40)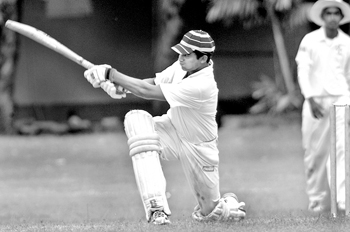 Nalanda batsman Primosh Perera in action against S. Thomas' (Pic Ranjith Perera)
Twin half tons by Buddhi
Sri Lanka Under 19 poolist Buddhi Samarawickrama's twin half tons were the highlight of the drawn inter-school cricket match between DSS and Thurstan at the DSS grounds in Wijerama Mawatha yesterday.
Thurstan 231 (Geeth Kumara 60, Buddhi Samarawickrama 58, Charith Perera 30, Achala Ramanayake 16; Dimuthu Samarakkody 3 for 46, Nipuna Mudalige 2 for 40, Charith Jayampathi 2 for 60) and 162 for 6 (Geeth Kumara 51, Buddhi Samarawickrama 52 n.o.; Nipuna Mudalige 2 for 21)
DSS (23/1 o'night) 168 (Kasun Suriyaarachchi 43, Nadun Pathirana 21, Dimuthu Samarakkody 17 n.o.; Geeth Kumara 4 for 27)
Amal, Ashan and Dilshan leads fight back
Amal Atapattu and Sri Lanka Under 19 pool players Ashan Priyanjan and Dilshan Munaweera led Nalanda's fight back in their drawn inter-school match against S. Thomas' at Mt Lavinia.
Nalanda 151 (Dilshan Munaweera 66, Ashan Priyanjana 21; Milan Fernando 6 for 26) and 275 for 9 (Ashan Priyanjana 54, Primosh Perera 51, Dilshan Munaweera 47, Treshan de Silva 38; Milan Fernando 4 for 68, Fahim Saleem 3 for 15, Naveed Ghany 2 for 31) S. Thomas' (75/2 o'night) 154 (Fahim Saleem 40, Thilina Nugawela 24, Aldrin Kerner 17; Amal Atapattu 5 for 32, Dilshan Munaweera 2 for 9)
Isipathana hold Cambrians
Isipathana held Prince of Wales to a draw in their inter-school encounter concluded at Moratuwa yesterday.
Prince of Wales (166/8 o'night) 239 for 9 declared (Nayana Priyanjana 66, Chamesh Fernando 31, Buddhika Alwis 26, Lahiru Sri Lakmal 51 n.o.; Lilan Fernando 7 for 87) Isipathana 127 (Irfan Ismail 30, Sheral Senaratne 30, Thivanka Ranasinghe 25; Sanka Peiris 4 for 25, Chamath Kariyawasam 2 for 44) and 74 for 5 (Thivanka Ranasinghe 20, Lilan Fernando 16 n.o.; Sanka Peiris 2 for 9, Chamath Kariyawasam 2 for 30)
Zahira rout CWW Kannangara MMV
Zahira were home for tea when they routed CWW Kannangara MMV by an innings and 187 runs in their inter-school cricket match concluded at Maradana yesterday. Nisham cracked a ton while Rizan and Riyaz chipped in half tons helping Zahira to make a massive 368 for 6. Fazlul and Ghouse wrecked their opponents batting to bundle CWW Kannangara MMV out for 79 and 102 respectively.
Zahira 368 for 6 declared (M. Nisham 124, M. Rizan 72, M. Riyaz 68; K. Jayasuriya 2 for 33)
CWW Kannangara MMV (69/8 o'night) 79 (G. Navaratne 27; M. Fazlul 5 for 26, M. Rizan 2 for 9, M. Waseem 2 for 32) and 102 (M. Hamid 44, G. Navaratne 23; I. Ghouse 5 for 26, M. Nafeel 3 for 12, M. Rizan 2 for 31)
Kushal top scores
Sri Lanka Under 19 poolist Kushal Perera of Royal made a top score of 52 against St Anthony's Katugastota on the opening day' of their inter-school match at Rifle Green. The match will be continued at 10.00 a.m. today.
Royal 206 (Kushal Perera 52, Thilina Samarasinghe 46, Vinod Malwatte 30, Charith Fernando 27; Eranda Hewapathirana 4 for 68, Sahan Palihakkara 2 for 24, Adel Reyal 2 for 35)St. Anthony's 92 for 2 (Manoj Sarathchandra 21, Malindu Perera 50 n.o.; Kanishka Boteju 2 for 25)
Dharmasoka on top
Dharmasoka MV were on top against President's Rajagiriya at Balapitiya yesterday. The match will be continued at 10.00 a.m today.
President's Rajagiriya 96 (Neomal Deheragoda 20, Priyan Perera 20; G. de Soysa 4 for 18, A. Chinthana 2 for 13, I. Udayanga 2 for 25)
Dharmasoka MV 210 (Levan Moshin 54, Imesh Udayanga 29, R. Uththama 29, C. Chaturanga 25, A. Kavinda 23, K. Niranjana 22, G. de Soysa 16; Chaminda Gamage 5 for 55, Rajitha Chaturanga 4 for 53)