Moulding a personality into clay
How do you put an individual's characteristics and mannerisms into clay, and eventually bronze? Sculpture. The answer comes both simply and naturally to prolific sculptor Dr. Sarath Chandrajeewa. Paying a visit to the Sapumal Foundation, where Dr. Chandrajeewa works as a part time instructor, The Sunday Times found the sculptor bent over a half-finished painting, surrounded by the art that is so much a part of his life.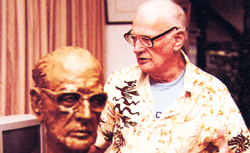 Sir Arthur C. Clarke
Adding to his lengthy list of achievements is the unveiling of a portrait of Sir Christopher Ondaatje created by him in the Ondaatje Wing Theatre of the National Portrait Gallery, London. He says the purpose of the portrait was to "transmit into clay, through my modelling technique, the character of a traveller and explorer through Sir Christopher's movements and expressions".
The final outcome of a sculpture is achieved after a great deal of preparation on the part of the artist. "I never do a sculpture on the basis of a photograph. You can never produce the right effect. The sculptor has to spend time with whoever he is going to portray, he has to speak to the person, observe his or her characteristics. Only then will he be able to produce a good likeness of the subject," explained Dr. Chandrajeewa.
The portrait of Sir Christopher Ondaatje is one exhibited in 1994 at A Hundred Impressions on Bronze. Sir Christopher sat for the portrait, which took two hours to complete in 1992. The exhibition featured many illustrious people from Arthur C. Clarke to Uru Varige Tissahamy from Dambana. "I wanted also to depict the visions of various people and their impact on society. For instance, Tissahamy and his clan were fighting for land and Arthur C. Clarke's vision was completely different," he said.
The unveiling of Sir Christopher's portrait is significant for the Sri Lankan art scene. According to Dr. Chandrajeewa, the art scene in Sri Lanka boasts of much talent in many genres of art, but the number of people who specialize in sculpture is very small. "Sculpture is an intense form of art; it is practical, with a lot of hard work and commitment involved."
Director of the Colombo Academy of Arts since 2002, Dr. Chandrajeewa has exhibited and lectured widely. He has a Diploma in Bronze Casting from the Royal College of Arts, London and a Ph.D and Master of Fine Arts Degree in Sculpture from the State Academic Arts Institute in Moscow.