Monitors packing up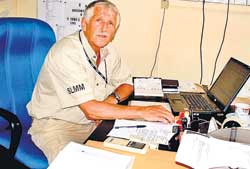 Yesterday's (04 Jan) picture of Mr. Skarvik
The Sri Lanka Monitoring Mission offices in Colombo and other areas are busy winding up operations and packing their bags following the government's decision to abrogate the ceasefire agreement with the LTTE. The SLMM spokesperson at the Colombo head office, Pia Hansson told The Sunday Times that the monitors were busy completing their reports and making final arrangements and they were not available for comment.
However, she said they would speak to the media before leaving on January 16. In Trincomalee, the SLMM's eastern chief Per Sander Skarvik, was busy on his lap-top finalizing all reports received from his staff in the Batticaloa, Ampara and Trincomalee districts.
Mr. Skarvik, a former member of the Royal Norwegian Navy, said the reports would be sent to the Colombo head office soon along with the eight vehicles used in the province by the SLMM. SLMM in the eastern region had stopped giving rulings on CFA violations since the Mavilaru incident triggered an undeclared war in the province in 2007.