Fostering joyful sounds
"We may not have a lot of money, but we have a lot of voice, a lot of rhythm and a lot of hope to shake and make a joyful noise in the world" says the Director of the UC Berkeley Gospel Choir – USA, Prof. D. Mark Wilson, (Ph.D.) who is now in Sri Lanka on invitation by Soul Sounds and Soundarie David, their Music Director. Prof. Wilson will conduct a week-long programme comprising training workshops and practice sessions with the group, at the end of which the choir will perform at the Lionel Wendt.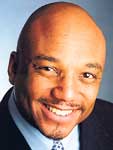 Prof. D. Mark Wilson
"Inviting Prof. Wilson to work with us, is a part of the bigger, more long-term plan of the 'Soul Sounds Academy' (to be), to bring down qualified professionals in specialized areas of music to foster and develop local talent," says Soundarie. "This has always been my dream as so many in our country don't have the opportunity or the resources to go overseas for vocal training and thus, miss out on the wealth of experience and exposure specialists in the field can share with us," she added. Thus, being one of the prime reasons behind her future plan to set up the Soul Sounds Academy, which will offer training from both local and foreign lecturers.
"I met Prof. Wilson in the States, (where she's currently studying), when I went for gospel choir rehearsals and was truly inspired by the way he communicates with his choir and how he manages to bring out the various different moods of the gospel music he conducts and accompanies," said Soundarie. "He's also a very nice personality to work with and we're immensely lucky to have him come all the way here to work with us," she added appreciatively.
Speaking to Prof. Wilson himself, he tells us a bit about his life, his passions and his music…
Q: How long have you been working with choirs and Gospel musicians and how did you come to be the Director of the UC Berkeley Gospel Choir?
A: I started directing choirs in the church when I was just 12-years-old and started playing gospel music when I was 14. As a result of the historical discrimination against the African American people in the United States, the church emerged as a central and separate place for the creation and development of music and the arts.
Thus, music held a central place in our family as African Americans, so much so that each of my siblings and I were required to study voice and take piano lessons. Following the example of my older sister, a sacred music composer, I began to conduct the children's choir at church between 1972 and 78, and would occasionally be invited to direct adult choirs, by gospel musicians who were my mentors. I then started a gospel choir at my high school, Skyline High, in Oakland, which offered a chance for African American students at the school to make their gifts and skills in music more visible.
During college at Howard University and graduate school at Harvard Divinity School and University of Michigan, I founded and was the artistic director for the Young Adult Fellowship Choir of Metropolitan Baptist Church (Washington D.C.), the Peoples Chorale of People's Baptist Church (Boston, Massachusetts), the Harvard Divinity School Jubilee Quintet of Harvard University, the University of Michigan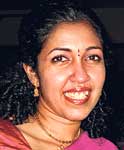 Soundarie David
Gospel Choir and the Young Adult Choir of Hartford Memorial Baptist Church, Detroit Michigan. I have also worked with musicians in the Northern California Gospel Music Workshop of America like Helen Stephens and Rev. John McBride, since the 1970's, and with Professors of African American sacred Music, like W. James Abbington, at Emory University, since the1980s.
UC Berkeley has had a gospel choir for over 20 years. Two years ago, their conductor – Sylvester Henderson, retired, leaving the artistic director position vacant. Though my degrees are in theology and sociology, and though I primarily teach at the Pacific School of Religion and in UC Berkeley's Sociology Department, given my experiences in directing gospel music and organizing choral groups, UC Berkeley's Department of Music invited me to re-organize the UC Berkeley Chorus. I've been their director for one semester, since August 2007.
Q: A few details about your current marital/family status, what you do in your free time and your inspirations?
A: I am single and come from a big musical family, of which I am the youngest of six, born to a single mother. I'm also an uncle of 25 nieces and nephews, with some 30 great-nieces and nephews, and five great-great nieces and nephews, whom I call and recognize as my own children. I also adopt many of my students and young people in my faith community as my "play" children. They are a part of the extended family to whom I pass on the musical traditions from my grandmother and mother.
In my spare time I love watching a good old film, sea bathing, walking outdoors, international travel and being reminded that I'm a part of a larger spiritual universe and therefore connected to many people of many languages, many experiences and many backgrounds. I believe that music can make us one, where politics and economics tends to fail.
Q:What's special/different about Gospel music and how it's sung?
A: I can't think of any other genre of music, besides gospel music, that combines so many voices and musical experiences that express the suffering, the struggle and the hope of the human condition. Gospel music blends African rhythms and sounds, the shouts, and the spontaneous field hollers that came from African slaves in America.
It embraces European hymns and Western cultural time signatures, but is not ashamed to manipulate them and move spontaneously by "the spirit" – as we refer to it in the African American community. The origins of Gospel Music are found in the blending together of the sacred and the secular, quite common to African music and music of other indigenous peoples in Eastern cultures.
Dr. Thomas Dorsey, the founder of Gospel Music, was a blues musician who had a spiritual vision to "jazz up" the hymns and sacred music of Christian churches. He brought the sounds of the streets and the fields into the temples, which were sometimes reluctant and "too sophisticated" to embrace the struggles, the hurts, the pains, the shouts, and the cries of people needing freedom, community and help. Gospel music offers to anyone who sings it an opportunity to open up their heart and soul, to chant, moan, shout out and sing until hearts that bear sorrow and oppression in the world, turn into hearts that rock the body, make hands clap, feet stomp and make people happy and hopeful that a better day in the Spirit will come.
Q:How did you meet Soundarie and how did the idea to come down to Sri Lanka to with Soul Sounds come about?
A:I met Soundarie when she auditioned to be one of the musicians for the Gospel Choir. I really needed someone who could read music well and who was open to developing a more free, improvisational style. When Soundarie played one of the anthems I was preparing to teach the choir, I knew then that she was an outstanding musician, with a heart open to learn other cultural forms and ways of expressing her gift. Some contemporary forms of gospel requires musicians who can read complicated compositions.
Soundarie has been a real gift to us in the this regard, and has taken the further step to challenge herself to play by ear, which she does quite well. She was very excited about inviting me to Sri Lanka, because we both share the belief that cultures and nations of people are united through song. She found in gospel music a style of song which we both believe will inspire and make more exciting the sacred songs performed by Soul Sounds.
Q: Could you give a basic overview of what the workshops will comprise of (The highlights)?
A: The workshop will basically do two things: For one I will lecture on the history and styles of performing gospel music, and secondly rehearse several gospel songs to be performed at the concert. The history will cover the background of Gospel Music from its African Spiritual roots, through the development of music during African slavery in the United States, to the emergence of the African American spiritual songs, to the blending of blues and jazz on the spirituals in both traditional and contemporary gospel music. I will also highlight how social factors like racial segregation, civil rights, and black power movement influenced forms and styles of gospel music.
Q: What sort of line-up have you selected for the show in Sri Lanka?
A:Our performance will include a variety of gospel music styles, from the spirituals and chanted hymns, to traditional "gospel blues" and to contemporary styles influenced by jazz. While I have worked with choral groups outside of Sri Lanka, in Cuba, Nicaragua, and have performed in St. Petersburg, Russia, and the Baltics, this will be my first trip and tour of Sri Lanka. I will be directing and accompanying on the piano, as will Soundarie. If there's a Hammond Organ (traditionally used in gospel music, jazz and rock 'n roll) or a keyboard, I'll jump on it and play it as well.
Soundarie also thought it was important for Soul Sounds to hear how gospel music is performed vocally; therefore, I'm tuning up my vocal chords to share a solo or sing a few songs with the choir.
Q: What would your advice be to budding, young choirs from our part of the world who have few resources and very little scope for the arts?
A: To budding young choirs with little resources, I would say, keep on singing! My family and I come from a people who had nothing, and what little we had, we couldn't possess or gain access to. We came from the history and background of slaves and second class citizens who may not have had a lot of material resources, but that had a resource that mattered more than anything else. They had their voice to make sound, their hands to clap and make rhythm and their feet to march and stomp to a beat that would change the world. When I see African American artists and singers share their gifts and talents throughout the world, I am reminded that nothing can stop the human spirit from rising up and sharing expressions of struggle and hope that are within it.
Soundarie and Soul Sounds are and have the resource of voice and the musical gift that it takes to bring together communities and nations of people and to share hope with the world. There are many groups with a lot of financial gifts and resources, and are more prone to build capital than they are to create global dialogues with others throughout the world. My hope and prayer is that my time with Soul Sounds will open an opportunity for them and for artists like myself to do more than build up material resources. I hope our time together will make new connections throughout the world, much needed to make peace, freedom and hope a reality. "Glorious Quest – A Sri Lankan Gospel Celebration", presented by Soul Sounds and conducted by Prof. Mark Wilson, will be held on January 11, at 7.30 p.m., at the Lionel Wendt.
The Official Hotel for this event is The Cinnamon Grand. Tickets are available at the Wendt.