Historic Halloluwa tunnel crumbling due to neglect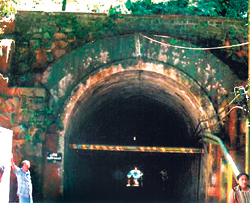 The tunnel with the brick work at the top crumbling.
The famous Halloluwa Tunnel is expected collapse within the next few years, if steps are not taken to rehabilitate it. Residents and various social service organisations in the area say it has not been maintained in the required manner. This tunnel provides access to Kandy from Gannoruwa and was used by British forces to enter Kandy. This tunnel on George E de Silva Road in Kandy had been rebuilt in 1886 and renovated under the direction of Kandy Municipality Engineer E. Fonseka.
Water seepage had resulted in rock debris falling forcing residents of the area to summon the Municipal authorities to clear the area. The workers have been at the task until Friday afternoon clearing the mud and debris and cleaning the upper portion of the tunnel face.
The residents of Anniewatte point an accusing finger at the Municipal authorities saying the tunnel has not been properly maintained and hence water is seeping through the upper layer of the tunnel, making it a dangerous passage.
Fortunately, no incident has occurred but if the tunnel is not properly maintained, it would pose a great danger, they said. Even now no high-roofed vehicles are allowed through the tunnel and there is a bar which indicates the height of vehicles which could go through the tunnel.