Winner Obama attacked ahead of NH debates
NASHUA, N.H., Saturday (Reuters) - Barack Obama's bid to be America's first black president is under fire from Democrats and Republicans alike before political debates today to help voters pick who to vote for in New Hampshire's primary. A day after his unexpected victory as Iowa's choice for the Democratic presidential nomination, Obama's message of hope and change was derided by both Hillary Clinton and Mitt Romney -- the leaders of the Democratic and Republican fields here.
"Did you listen to Barack Obama?" Romney, the former governor of neighbouring Massachusetts seeking to become America's first Mormon president, said at a late Friday rally. "He is a new face, but gosh when you listen to what comes out of his mouth. Its like, 'We're going to just get our troops out of Iraq," Romney said. "Have you thought about the consequences?" Romney, who unexpectedly lost in Iowa to Baptist preacher and former Arkansas Gov. Mike Huckabee, was referring to Obama's promise to get U.S. troops out of Iraq.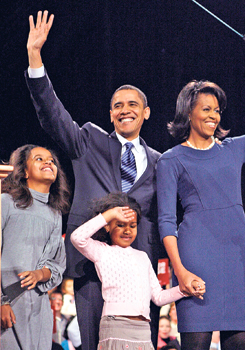 Democratic presidential hopeful Sen. Barack Obama, D-Ill., waves to supporters with his wife Michelle and daughters Malia, left and Sasha, center, at an after caucus rally at the Hy-Vee Center after winning the Iowa democratic presidential caucus Thursday Jan. 3, 2008 in Des Moines, Iowa. AP
And Clinton said, "I know that the next president will embody the hopes and dreams of all of us, but I also know that they cannot be false hopes. Tuesday's New Hampshire primaries will help decide who runs in November's election to succeed U.S. President George W. Bush."We have to pick a president who is ready on Day One to do the job, the tough and difficult job," said Clinton, seeking to become America's first female president.
Clinton and Obama spoke to the same Democratic rally on Friday evening. But today they will face off against each other in a controversial televised debate which promises an in-depth look at candidates. The prime-time back-to-back debates on ABC -- first for Republicans and then Democrats -- will have a reduced field.
Republican Duncan Hunter and Democrats Dennis Kucinich and Mike Gravel were excluded by organizers and Democrats Joe Biden and Chris Dodd quit after poor returns in Iowa. ABC only allowed candidates into the debate if they finished in the top four in Iowa or secured 5 percent in New Hampshire or national polls.
Kucinich's campaign filed an emergency complaint with the U.S. Federal Communications Commission late on Friday saying the network was, "violating its obligation to operate in the public interest" by excluding candidates.ABC said the tight field will allow Americans to hear more from each candidate and that the format will be novel.
Candidates will sit in a semi-circle and for 45 minutes ABC News anchor Charles Gibson will pose three major issues aimed at getting the politicians to debate among themselves as if at a dinner party. There are no time constraints on how long a candidate may speak and Gibson says he plans to intervene only if needed to push the debate forward or calm an argument.
The second half of each 90-minute debate is more traditional with Gibson and a colleague for ABC's local affiliate WMUR asking specific questions of candidates. ABC arranged the debate in conjunction with Facebook and some of the questions posed may be generated from issues raised by members of the popular networking site on a joint Facebook/ABC page which has been posting a daily question.