Prince William to train as a pilot
LONDON, Saturday (AFP) - Britain's Prince William is to join the Royal Air Force on Monday for a four-month intensive pilot training course, RAF chiefs said. The 25-year-old, who is second in line to the throne, will take to the skies with an instructor to earn his wings. The shortened course would normally take three or four years.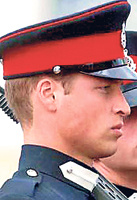 PrinceWilliams
He is temporarily leaving his army role for the attachment, which is aimed at helping to prepare him for his future role as head of the armed forces. His father Prince Charles, the Prince of Wales, did likewise in 1971. Army officer William has served for a year as a second lieutenant in the Blues and Royals regiment of the Household Cavalry, following his graduation from the elite Sandhurst military academy. He is a troop commander in charge of armoured Scimitar vehicles.
While in the RAF, he will be known as Flying Officer William Wales -- equivalent to his army rank -- and wear an RAF uniform. The prince will turn up for duty on Monday at the RAF Cranwell base in Lincolnshire, east central England, joining a class of around a dozen students.
"Flying Officer Wales will be realising a personal ambition to learn how to fly and this will be the beginning of a lifelong relationship with the RAF,"said Group Captain Nick Seward, commandant of the Central Flying School at RAF Cranwell.
"If successful he will be awarded his RAF wings and in anticipation of this, a graduation ceremony is planned for April."William will begin training on a propeller driven Grob 115E light aircraft. Squadron Leader Roger Bousfield will be the prince's instructor. Students need good hand-to-eye coordination, confidence and decision-making skills, he said.