Sequins, pearls and style tips at Egyptian dance workshop
CAIRO, Saturday (AFP) - From Kazakhstan to Brazil, Italy and Indonesia, lovers of oriental dance flock to Egypt to pay homage to the cradle of this ancient art. In a luxury hotel at the foot of the pyramids, some 80 professional dancers from around the world gathered recently to take part in an intensive workshop to improve their technique and pick up style tips.
"If you haven't danced in Egypt, you are not a real dancer," said Raqia Hassan, Egypt's most famous dance teacher who organises the winter workshops and is also behind the Cairo Dance Festival held every summer since 2000. "It is absolutely necessary to be trained here -- Egypt is the source after all," said Nadia Sement, a French oriental dance instructor attending the workshop.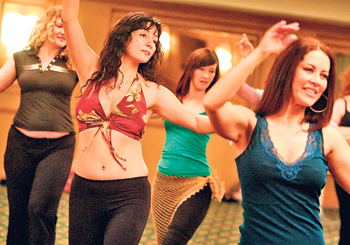 Oriental dancers taking a class in Cairo. AFP
With colourful sequinned scarves jingling around their hips, the dancers who each spent 1,437 dollars for the workshop, train vigorously for eight hours a day and listen to lectures on the dance's history in the evenings in order to truly capture the spirit behind the moves, the organisers said.
And cursed be those who reduce the ancient art to a simple form of seduction or who dare call it "belly dance," says Carolina Vargadinicu, who goes by the stage name 'Morocco'."That would be a false, colonial and racist interpretation (imposed) by the West," says the 70-year-old New Yorker whose family roots lie in Romania and who has been dancing professionally for 47 years.
Legend has it the dance was originally an ancient fertility rite. While Egyptians like to trace it back to the Pharaonic times, the dance actually comes from India and was brought over to Egypt by gypsies. The orientalist cliche of a sensual dance and its exoticism in Western popular culture have increased its exposure outside the Arab world.
In Mexico some still believe the dance has the power to help fertility, says Grinnelli Sandoval, who runs a dance school in Ensenada, in Baja California."I have some students who have been sent by their gynaecologist, because the movements help massage a woman's internal organs, which helps support the uterus better for child birth," she said.
The workshop has also drawn local creative talent eager to showcase the accessories that must accompany the perfect dancer. Shiny sequin-studded or pearl-embroidered costumes hang next to stands overflowing with music CDs and dance DVDs, and posters of the dance legends.
But despite the attraction that Egypt holds for the ladies at the workshop, most admit that settling long-term in the dance mecca has no appeal.