Union Assurance regionalize training and development in Northern Zone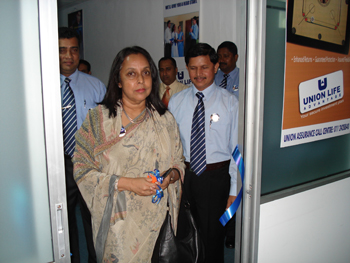 Mrs. Marina Tharmaratnam , CEO Union Assurance PLC declares open the Northern Zone training Centre. Also in the picture Mr. Parakrama Embogama - Regional Manager Kurunegala , Mr. Asoka Senavirathna, Zonal Manager North central Zone.
Union Assurance expands its regionalizing training and development activities with the opening of the Northern Training Centre at No 6 Rajapilla Road Kurunegala, a press release said. The objective of regionalizing training is to enhance productivity and professionalism for the sales staff of the Northern Zone. Union Assurance place great importance on training and development activities to benchmark there performance against global standards and motivate them to sell responsibly. The company intends to expand training centers in addition to the state of the art training centers that existing in Colombo and Galle to meet their training objective.
We have made significant investments in training and developing our staff to meet and exceed international benchmarks said Mr. Suranjith Godagama –. Assistant General Manager Training and Development. Union Assurance engages in both in-house and external expertise for training process, at Union Assurance people are exposed to numerous training and development interventions. The Vision of Union Assurance Training & Development is to be an excellent training & development solutions provider.
Union Assurance is a member of Life Insurance Marketing and Research Association in USA (LIMRA) and leverages best practice and knowledge in order to develop the sales team.