CIM unfold key plans for 2008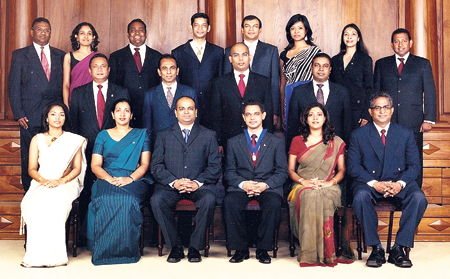 The CIM team
The 12th Annual General Meeting of The Chartered Institute of Marketing Sri Lanka Region held recently saw the re-appointment of the incumbent Chairman Shiraz Latiff, Assistant Vice President - Service Quality, HSBC Electronic Data Processing Lanka (Pvt) Ltd. along with the 2007 Regional Board.
Amal Cabraal, Chairman of Unilever Sri Lanka Ltd. was appointed Honorary President of The Institute.
The Regional Board comprises Suren Rajanathan, General Manager of 3M Lanka (Pvt) Ltd - Immediate Past Chairman, Ms. Roshani Cooray, Senior General Manager - Sales and Marketing of Lanka Bell (Pvt) Ltd - Senior Vice Chairman, Ms. Chitrangani Herat Gunaratne, Chief Executive Officer of Alpha Industries Ltd - Vice Chairman, R. Wijenathan, Director / CEO of Millennium Development ( Pvt) Ltd – Hony Secretary, Ms. Nadi Dharmasiri, Asst. General Manager – Marketing of Asian Alliance Insurance Plc – Regional Treasurer. Other members of the Board are Ajith Medis, Senior Lecturer at the University of Kelaniya, Amal Perera, Assistant General Manager - Marketing and Planning of Eagle Insurance Plc, Asanga Ranasinghe, Customer Development Director of Unilever Sri Lanka Ltd. and Shantha Katipearachchi, Senior Manager - Commercial Business Development of Union Assurance Plc.
In continuing with their present overall strategy of taking 'marketing to the boardroom', the team will focus on five key areas; namely, Education, Membership Development, Corporate and Industry Integration, Public Affairs and Communications, and Networking and Relationships.
The Education Focus Group will be led by Ajith Mendis; Membership Development by Shantha Katipearachchi and Corporate and Industry Integration by Asanga Ranasinghe. Amal Perera has been appointed Head of Public Affairs and Communications and D.D.L. Fernando Head of Networking and Relationships of The Institute.
The Regional Management Committee Members are Ms. Shivonne Bambarandage, Trade Lane Manager – Asia Pacific Region, Capitol AEI / DHL Global Forwarding, Brian Selvanayagam, Senior Manager - Corporate Finance of Kshatriya Holdings PLC, Thilan Senaratne, Country Manager of Double A Pulp & Paper Company Ltd, Ranesh Tirimanne, Brand Manager of Prima Ceylon Ltd, Ms. Izlima Kareem, Manager - Dealer Sales of Epsi Computers, D. D. L. Fernando, CEO / President of Global Knowledge Consultants, Dilhan Fernando, Merchandising Manager of M. Samson Silva & Co.(Pte) Ltd. and Ms. Varuni Vander Poorten, Executive –Brands, Marketing Division of Dialog Mobile.