'Oba Mageya' : a tale of crime and punishment
By Susitha R. Fernando
'Oba Mageya', a miniplay depicting a battle between the good and the bad is telecast every Monday at 8.35 pm on Rupavahini starting from December 24. Directed by Janaka Domingu and produced by Wasantha Kumarasiri the teledrama stars Chathurika Peiries, Veena Jayakody, Wasantha Kumarasiri, Sanoja Bibile, Maureen Charuni, Hemasiri Liyanage, Ajith Lokuge, Jagath Beneragama, Ruwan Wickremasinghe, Janak Premalal, Sandun Wijesiri, Gayesha Perera, Sriyani Mahawatte and Wilmon Wirimanne. The story revolves around Nilangani, a middle aged lawyer who lives alone following the break up of her first marriage. Her husband Duncan, a money minded businessman has managed to get most of her lands written in his name. Due to this devious act Nilangani is angry with Duncan. She awaits an opportunity to avenge this. And now Duncan is married to 'Sara' and they have a son Rasanga.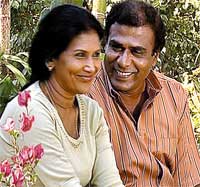 Among the other reason for Nilangani's anger over Duncan is that he fraudulently gets a coconut plantation belonging to her father. This property is very special to Nilangani because watcher Saranadasa and his wife Biso and their daughter Samanthi have a special connection to Nilanagi. And she looks after their wants and needs. Samanthi has an affair with Jaliya.
The miniplay takes a dramatic twist when one day Nilangani receives a complaint that Samanthi is being abused by a young man and after inquiries Nilangani comes to know that the culprit behind the incident is Duncan and Sara's son Rasanga.
Nilangani tries her best to bring him before justice. Duncan who gets upset over this tries to get the case settled using his money and influence. He promises to pay them handsomely and to arrange the marriage of Samanthi and Jaliya. Duncan manages to convince the family and move for a settlement. And they too agree to get the case settled and the poor family too agrees to it. At this stage Nilangani gets upset and young Samanthi for whom the attorney tried to appear, sympathises with her. But she thinks that if she settles with Jaliya most of her problem would be solved and she would be able to forget her past.
Yet all these are turned upside down when it is revealed that Samanthi becomes pregnant. And this compels her mother Biso once again seek the support of Nilangani to bring the culprit before the law. Would Nilangani come to their support this time? What is Nilangani's connection to Biso's family? Would Rasanga be punished? With many dramatic twists and turns, the miniplay reaches its climax.
Others in the technical crew include Ajith Gamage as camera director, Eheliyagoda Somatilake as art director, J. D. Nandasena as make up artiste, Jagath Weeratunge as editor and Suresh Maliyadda as director of music.