Majestic screens 'The Kingdom'
Peter Berg's The Kingdom is being screened at the Majestic Cinema Colombo. Inspired by bombings at the Riyadh compound on May 12, 2003 and the Khobar housing complex on June 26, 1996 in the kingdom of Saudi Arabia the story follows a team of FBI agents who are sent to investigate the bombing of a foreign-workers facility. Co-produced by Academy Award nominated director Michael Mann the film stars Jamie Foxx, Chris Cooper, Jennifer Garner, Jason Bateman, Ashraf Barhom, with Kyle Chandler, and Ali Suliman.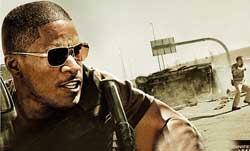 The film screened at the Edinburgh International Film Festival as its yearly 'Surprise Movie' on August this year, has grossed an estimated $44 million in the United States and $10 million at the foreign box office. Terrorists attack a compound for foreign workers in Riyadh, killing over a hundred people including Special Agent Francis Manner (Kyle Chandler)-the FBI's lead agent in Saudi Arabia. While the FBI is hamstrung by diplomatic sensitivities and unable to send agents to investigate, Special Agent Fleury (Jamie Foxx) takes matters into his own hands and leads a team to investigate.
With agents Janet Mayes (Jennifer Garner), Adam Leavitt (Jason Bateman), and Grant Sykes (Chris Cooper) at his side, he hopes to discover who was responsible for the bombing within a week's time. However, the team finds their investigation of the scene stalled by bureaucracy and their presence, as American outsiders, unwelcome. They eventually gain the trust of Saudi Arabian police officer Colonel Faris Al Ghazi (Ashraf Barhom) and his colleague Sgt Haytham (Ali Suliman), with whom they work to find the perpetrator.
As Ghazi and the agents close in on the terrorists responsible for the bombing, their convoy is attacked and Leavitt is abducted. The agents then move in on the terrorist leader's neighbourhood. They successfully rescue Leavitt and eliminate the enemy threat in the neighbourhood. Unfortunately, Al Ghazi is killed, which affects the team emotionally. Agent Fleury and his team return home. The film was shot on location in Abu Dhabi and United Arab Emirates and the film's production cost a total of $80 million.