'Whispering Palms' : New Year bash at Palm Beach Hotel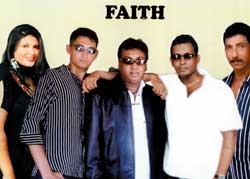 'Faith'
'Whispering Palms', grand New Year's Eve Dinner dance will come alive at the Palm Beach Hotel Mount Lavinia for the second consecutive year with popular musicians and a DJ. The event was a massive successes last year and this time around it will be 'the New Year's Eve Dance' of the town.
Whispering Palms is a compact entertainment package with the Band 'Faith' and 'DJ MANJU'. The event will cover music from 70s 80s 90s and current music with ever popular baila too.
'It will be a perfect New Year's Eve dinner dance catering for all ages of guests. Not to mention the loads of prizes up for grabs' said Lanil Jayawardene the General Manager of The Hotel. The selection of 'Palm Beach Queen', 'Best Dancing Couple', 'The Table Draw/Ticket Draw', Best Dressed Gentlemen and Lady will be the top attractions of the night.
The dinner service for this event will be a 'Gala International Buffet' and tickets are priced at Rs. 2500/= per person, Rs. 1500/= for children under 12 and a Special package is offered for Rs. 8000/= inclusive of Dinner/Breakfast and accommodation for a couple. The Table plan is now available at the Hotel, Please call 2712713t for details.