'Victor' of Sri Lankan music
Pop, reggae, rock and hippop and what not. Different music cultures have come and gone making no impression in the hearts nor ears of their audiences. Yet even after more than four decades a voice and songs so dear to our ears and hearts remain victoriously unchanged. The legendary Victor Ratnayake has recorded and rerecorded his soothing songs and his audience has not changed but become even more attached to him.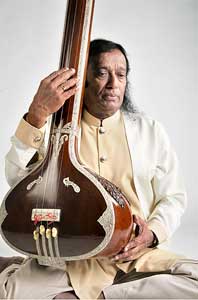 A collection of golden songs of Victor recorded once more to a Compact Disc under the title 'Gehanu Lamai Ne' is to be released soon. The 18 song collection contains his everlasting hits like 'Ithin Eeta Passe', 'Maliniye', 'Mal Pokuru Pokuru', 'Sanda Ken Wesila', 'Kohe Sita Oba Peminiyeda' and ' Ahimi Wunath Numba Nage' and will definitely enable much loved fans walk down memory lane once more. Reproduced in to cassettes and tapes and almost destroyed, the CD will help protect Victor's wonderful voice for eternity and this worthy endeavour is done in collaboration with 'Siyatha FM' (Voice of Asia Network Pvt Ltd) and CIFL (Central Industries and Finance Limited) and the support of his fans.
Born in beautiful Kadugannawa, as a kid Victor was attracted by the songs in films of yesteryear and started learning and playing music under the guidance of the great Cyril Perera. At the age of 15 with a Japanese violin bought for Rs. 112 by his father A. Don James, Victor mastered the instrument and performed to the music direction of distinguished musicians like Amaradeva, Somadasa Elvitigala and D. R. Peiris.
Having taking up music direction himself this talented musician has always been fascinated with every genre of music. This was amply proved with the melodies he set for the songs in films 'Mathara Achchi', 'Siribo Aiya','Podi Malli', 'Sri Madara', 'Anupama' and 'Sarungale' which were sung by Nanda Malani, Sunil Edirisinghe, H. R. Jothipala, M. S. Fernando and Freddy Silva. Victor came to the summit of his popularity with 'Sa', the first ever solo performance by a Sri Lankan singer and inaugurated on July 20, 1973, at the Lumbini Theatre, Havelock Town. Even after 1500 renditions over the last 35 years the show is still much in demand. According to Victor a fitting fusion of Western music with Ragadari classical music without being critical of any single music style was the success behind "Sa".
While wishing him all the best for his new release on behalf of TV Times readers we hope that he will reign in the Sri Lankan music scene many more years to come. Literal tribute to the master singer A book based on veteran musician Victor Ratnayake, 'Sulakal Miyuru Geyum' written by lyricist and film journalist Yapa Bandara Seneviratne was launched recently.The book contains the descriptions on Victor Ratnayake's handling of music and descriptions on his songs. 0
Victor invites his listeners with BOC's Aradhana. Victor Ratnayake will be the first artiste to perform for the video version of 'Aradhana' musical programme which was aired over the SLBC Sinhala channel for a number of years.
Sponsored by the Bank of Ceylon (BOC), the popular programme will be telecast every Monday at 9.30 pm on ITN starting from January 7. Victor will be featured on four programmes through out the month of January and he will be followed by Sunil Edirisinghe, Neela Wickremasinghe, T. M. Jayaratne etc. The full programme was recently filmed at Bishop's College Colombo. TV presenter and writer Sarathchandra Pathdanduwana compered this programme in a novel manner and was conducted to a packed audience.