Capt. Elmo flying high with multiple roles
Elmo Jayawardena is a man of many roles. Not just a man but an expert in many areas. Professionally a pilot and fascinated in writing, Elmo is a large hearted philanthropist who with his generous wife Dil runs a charity organisation AFLAC (which stands for the Association For Lighting A Candle) and helps many deserving and underprivileged children and families.
Using all the money generated from writing, a film under the title 'Samige Kathawa' directed by young director Priyankara Vithanachchi. Capt. Elmo who reached the rare feat of winning both, the coveted Gratien Award in 2001 and the State Literary Award for the year 2005 spoke to the TV Times about himself and his achievements.
TVT: Tell us something about yourself and your background?
Elmo: I was born and grew up in Moratuwa - studied only up to GCE O/L level - then I wandered aimlessly in life and finally became a pilot - I hardly spoke a word of English till I was 17. I never thought of becoming a pilot - it was just something that happened. I first worked for Air Ceylon and flew aeroplanes for Air Ceylon - Air Lanka (Chief Pilot) instructor Captain with Singapore International Airways (SIA) for almost 20 years on Jumbo jets. I have retired from SIA and now work for Sri Lankan Airlines training pilots in the simulator. I am now back in the river house at Moratuwa.
TVT: At what point did you start writing?
Elmo: I used to write short articles when I was flying - but mainly I started in my mid thirties.
TVT: What is the inspiration for Sam's story?
Elmo: Sam works for me - I had a Tamil cook and a Tamil house maid and Sam a Sinhalese. The ethnic war was 200 miles away where their brothers were fighting a war they did not know much about while these three ate in the same kitchen.
TVT: Are you satisfied about the cinematic version of the novel?
Elmo: Yes - I would love to see it on the screen
TVT: How did the Association for Lighting a Candle emerge? How has it helped the poor?
Elmo: I founded AFLAC to be a link between someone's generosity and another's humanitarian need. It has helped the poor for 12 years now with an administrative cost of 2.6 % the lowest that I know for a charity organisation. We have 200 very poor cancer patients under sponsorship.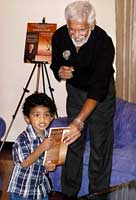 An unforgettable moment: Elmo handing over his latest book to his grandson Navik.
We have 41 libraries in villages and have given more than 800 student sponsorships - 200 plus university students 32 visually handicapped university students will begin AFLAC sponsorships from January 2008 we will have our own village - AFLAC village in Indigaswewa
We have our own cancer ward - Maharagama cancer hospital ward 14. We give school books to poor children in 10 centers spread all over Sri Lanka at year end.
TVT: What is the most unforgettable incident in your writing career?
Elmo: When I presented the first copy of 'Rainbows in Braille' to my 20 month old grand son Navik - it was symbolic as I write the book for their generation - lest they not know how beautiful Sri Lanka was. My generation ruined it - I hope his generation will resurrect it.
TVT: How do you describe your role as an English writer in Sri Lanka?
Elmo: Just a writer who writes for a wonderful cause as all the money I get for my writing is for the poor.
TVT: What is your view about Sri Lankan literature and arts?
Elmo: I think we have some wonderful writers in Sri Lanka and I wish we had ways to make them get assistance to publish their work. As for art - I have very little knowledge
TVT: What is your next project?
Elmo: Writing a book "Kakiyan the story of a Crow" it is about crows and how they see us and what they think of us.