Ranatunga as SLC President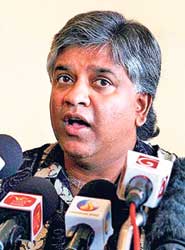 Arjuna Ranatunga
Sri Lanka's World Cup winning captain Arjuna Ranatunga will take over as the President of Sri Lanka cricket next week.
Ranatunga who twice earlier tried to take over the mantle of administration this time has been successful and will be replacing Jayantha Dharmadasa.
A senior member of Sri Lanka cricket told The Sunday Times that all major decision were held in abeyance – including the salary package of Presidential Cricket advisor D.S. de Silva, awaiting Ranatunga's arrival.
"Ranatunga also may have a completely different committee," he said.
Meanwhile Ranatunga himself commenting on the move said, "I still really do not know the exact date, but, all that I know is it is going to happen within the first week of January".
Ranatunga, one of the most reliable middle order batsmen that Sri Lanka ever produced, played in Sri Lanka's inaugural Test match as an 18-year-old schoolboy in 1982 and then went onto lead the Lankan team till 1999.
He was the Sri Lankan captain from 1988 to 1999 in 38 Test matches.
None of the Sports Ministers were available for comment on the exact date of appointment.