Sebastians beat Royal, Horana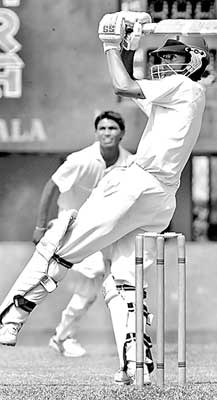 D.S. SEnanayake batsman Lahiru Weragala in full swing lofting a ball over the fence. (Pic. Ranjith Perera)
A 125 ball knock of 103 with 14 boundaries by opener Trevin Fernando and a match bag of 12 for 56 by skipper and right arm spinner Janitha Jayawardena helped St. Sebastian's to record an easy innings and 70 runs win over Royal Horana in their Under 20 inter-school cricket encounter played at Moratuwa.
Sebs taking the first lease of the wicket were given a sound start by openers Janitha Jayawardena and Rajitha Mendis who put on 99 runs enabling them to make an imposing 274 for 9 before declaring.
Royal Horana in their turn were bundled out for just 84 with skipper Janitha doing the damage. Made to follow on they fared a little better but it was not sufficient to avoid an innings loss as Janitha performed his second six wicket haul of the match to bowl them out for 120.
St Sebastian's 274 for 9 declared (Trevin Fernando 103, Rajitha Mendis 41, Heshan Dias 33, Brian Paul 27, Ramith Dilhara 29 n.o.; Sanjaya Perera 4 for 40)
Royal Horana 84 (S. Mahipa 22; Janitha Jayawardena 6 for 12, Anoj Gayashan 2 for 12) and 120 (S. Mahipa 39; Janitha Jayawardena 6 for 44, Anoj Gayashan 3 for 31)
Match drawn at Wijerama Mawatha
The Under 20 inter-school cricket encounter between DSS and Mahinda Galle concluded at DSS grounds in Wijerama Mawatha yesterday ended in a draw.
Mahinda set a target of 177 runs in 45 overs ended the day on 153 for 4. Earlier DSS taking first lease of the wicket were helped by two half tons from Gayashan Weerasekera and Charith Jayampathi saw them end their innings on 236.
Mahinda in their turn resuming on their overnight score of 70 for 4 were bowled out for 140. DSS batting the second time made 80 for 3 before declaring and Mahinda put in a better batting display in their second essay which ensured a draw.
DSS 236 (Gayashan Weerasekera 71, Charith Jayampathi 64, Thanuja Dulara 32 n.o.; R. Priyan 4 for 73, K. Gajasinghe 3 for 55) and 80 for 3 declared (Lahiru Weragala 47, Hasitha Dharshana 28)
Mahinda (70/4 o'night) 140 (P. Srimal 26, R. Priyan 23; Isuru Udana 3 for 39, Dimuthu Samarakkody 2 for 3, Nadun Pathirana 2 for 13, Navin Kavikara 2 for 40) and 153 for 4 (S. Kelumpriya 50, G. Hemal 28, P. Srimal 21; Navin Kavikara 2 for 37)
Tame draw at Mt Lavinia
S.Thomas' and Isipathana figured in a tame draw in another Under 20 inter-school encounter played at Mt Lavinia. Isipathana who were in a strong position at the end of the first day's play failed to capitalize on their advantage. From a healthy position of 125 for 3 they collapsed to 205 and the Thomians held on to end the days play making 169 for 2.
S. Thomas' 162 (Naveed Ghany 45, Fahim Saleem 30; Srilal Senaratne 7 for 62) and 169 for 2 (Ashan Fernando 38, Fahim Saleem 76 n.o., R. Nirushan 43 n.o.)
Isipathana (125/3 o'night) 205 (Irfan Ismail 64, Amira Rabel 28, T. Ranasinghe 20; Milan Fernando 3 for 39, Ruchira de Silva 3 for 62, Jehan Thahir 2 for 16)