US aid for Lankan tennis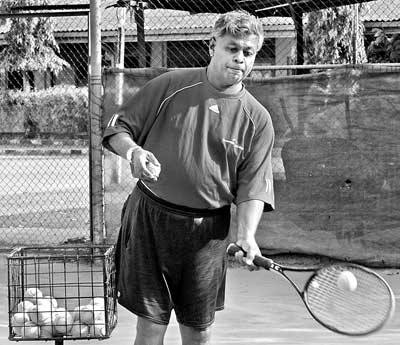 Ganesh De Silva in actin while coaching. Pic by Saman Kariyawasam
Could the next Pete Sampras come from Sri Lanka? This is not a joke. Thanks to the efforts of Ganesh De Silva, the impossible could become possible. A United States Tennis Association (USTA) funded tournament starts off on Wednesday at the Sri Lanka Tennis Association (SLTA) courts. The top three boys and girls will have the opportunity of going to the United States of America on tennis scholarships. Those chosen will be able to get a degree and perhaps more importantly get exposure and get trained by some of the best tennis coaches.
The Sunday Times spoke to the brains behind this tournament. De Silva said: "I was the first schoolboy to represent Sri Lanka in the Davis Cup. And I went on a tennis scholarship myself. Thus I know first hand how beneficial this can be. Two others who went down the same road I did were Arjun Fernando and Asiri Iddamalgoda. Their record in tennis speaks for itself. Personally my motivation is to give something back to this country and to the game itself. I offered this programme to the SLTA, but there was no real interest. I am the Managing Director of the Northern Indiana Tennis Foundation which is a member of the USTA. So I was able to get the funds to conduct this tournament."
He added: " I have already managed to get scholarships for a number of kids namely Thushan Hemachandra, Nawchali De Silva, Sanka Athukorale, Punsisi Dayaratne, Ruchika Alahakoon, Thiyurni Abeysinghe, Chanuk Algama, Shyam ans Shashi Sabanathan to name a few.
"What I do is select and record the best players on to a DVD and then show it to the coaches back in America. Coaches at universities have close links with the admissions office as well as financial institutions of each respective university. If they like what they see, they themselves will try to get a scholarship and obviously admission for the player concerned."
According to De Silva, most universities in America try very hard to portray a multi cultural image. "This is not some sort of facade. In the sporting sphere for example, coalitions of universities have gone to the extent of building soccer fields in Somalia and tennis courts in other parts of Africa. Contrary to any misconception soccer as we Sri Lankans know it, is very popular in the States. Since it is a team sport, much more revenue is poured in to it. And yes I am tempted to go in to sports such as basketball and swimming. Multi culture at university level is not only encouraged, it is much sough after," said De Silva.
De Silva emphasised that this was just the beginning. "If I venture in to other sports and there is a lot of enthusiasm. Then obviously I would need to look for corporate sponsorship and also have one person in charge of each respective sport. This is because a lot of documentation needs to be done and the players must in guided of what they need academically to get a good scholarship," added De Silva.
When asked in conclusion as to how Sri Lankan tennis as a whole can improve, De Silva said: "First and foremost we have the talent. But having a proper coach is critical. In addition to the required certificates, the coach must be familiar with the drills. But most importantly the national coach cannot do private coaching. Everybody knows that America has produced some superb players over the years.
But any coach involved with the USTA is automatically banned from doing private sessions. The same must apply in Sri Lanka otherwise we will never move ahead. One good example of a coach who followed this rule was Arul Amalnathan. As long he was the Davis Cup coach he did not do any private tutoring. It was only after he resigned that he started his own academy. And that is the way it should be."