Hounding on the Plains
The unique natural heritage of Horton Plains is home to a vast number of endemic species. Nature lovers and foreigners visit the sanctuary either to observe its beauty or to conduct research. I happened to go there with my university "nature team" recently to provide manpower to protect the sanctuary from an invasive species called Eulex and also the common enemy, polythene.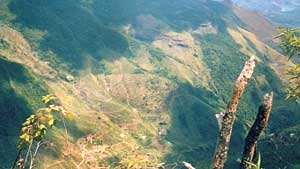 Horton Plain

,

Sri Lanka
After walking 10 km from the Ohiya entrance, carrying all our things, we wanted to rest awhile and as there was no place, sat on the grass. To our surprise, a trailer approached at high speed and those in it, including girls, shouted abuse at us for sitting there. Most of our members were upset over the incident and resented the harassment.
I am strongly against picnicking on the grasslands of the sanctuary and none of our members would ever do such a thing. But where could we rest? On the road perhaps? I understand that such behaviour by officers is required owing to the misdeeds of most local groups coming to places like Horton Plains.
However, the guards should be in a position to identify the different groups entering such places. If this is the kind of attitude of the officials, many will think twice before visiting a second time which in turn will have an impact on the environment and also on tourism. Environmentally conscious visitors will go elsewhere.