Story that failed to hit the headlines
While one family rejoiced over the reunion with their newborn son, some miles away another family still laments the loss of their little boy. They keep praying for the safe return of their nearly five-month-old "fair and chubby" son. Sithum Sampath Ranepura disappeared on November 12 from his home in Yagodamulla, Minuwangoda, The Sunday Times found, with the parents alleging that a woman who claimed to be destitute and found shelter in their house stole him from them.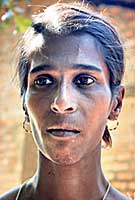 Shriyani: Not so lucky.
Unlike the baby stolen from the Kalubowila Hospital, the pleadings and agony of Sithum's parentsdid not come under the spotlight until last week when Ranepura H. Nilantha on seeing a sketch of the Kalubowila suspect rushed there to highlight his plight. Nilantha informed the Kohuwela Police that the description of the suspect fit that of the person who carried away their baby.
When The Sunday Times visited Sithum's family in Yagodamulla their pathetic story unfolded. Two months ago, Sithum's mother, Shriyani Weerakoon had paid a visit to her sister in Panadura and was coming back home when she met a middle-aged woman who identified herself as Dammika Hettiarachchi. Shriyani had been moved when Dammika, in tears, explained that she was homeless and alone as the tsunami had not only washed away her home but also engulfed her loved ones.
"Dammika asked for Rs. 20 when she got off the bus in Colombo. I asked why. She said she didn't have a place to stay, but the money would do for travel. I felt sorry for her and invited her to our house, to be part of our family," says 36-year-old Shriyani, with bitter regret. "I told her we could do with a little help at home. My husband agreed because we had just begun our own garage which required a lot of work," she said.
So Dammika came to live with them at their home opposite the Heenatiya school in Yagodamulla, end October. She did not ask for wages, all she wanted was a home. She looked after Sithum who was three months old. The two older boys, aged eight and five, adored her.
On the morning of November 12, Shriyani and Nilantha, who is a mechanic, left for Maradagahamulla on business. The two younger children were in Dammika's care while the eldest was in school. When they returned in the afternoon, the five-year-old told them that Dammika nenda had taken Sithum to hospital as he was hurt.
"Dammi Nenda was trying to carry my little brother but she accidentally let go of him and he fell. Then she said that malli was hurt and she would take him to the hospital. I asked if I should come as well, but she told me to stay at home," says little Thusitha.
"We went to the Minuwangoda Hospital, but they were not there. We then went to the Negombo Hospital, but could not find them there as well. We looked for them everywhere, but they were nowhere to be found. Finally we went to the Katunayake Police, who told us to come back with more information. However we went back to the police the next day and then they recorded the complaint," weeps Shriyani, adding that they named their newly-opened garage after Sithum soon after he was born.
From November 12, they have not seen their baby. With hope in his heart Nilantha had rushed to see whether the woman who had taken the Kalubowila baby was Dammika only to be disappointed. Life has to go on for this family, but the children keep their little brother's clothes near them to feel his presence. Nilantha continues his work to feed his family, yet his heart is heavy. They think of Sithum, they cry for him.
They have no photograph of their little boy, as they did not have the wherewithal to take one but hope that the description of him as a fair and chubby boy who has a birthmark on his chest would be of help in identifying him. As the New Year dawns, their yearning is to hold little Sithum in their arms once again see him smile and gurgle at them.